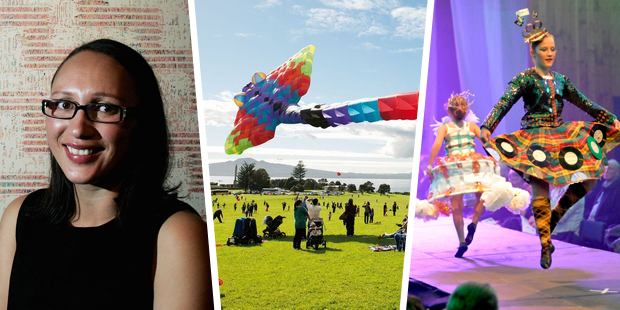 Air and earth
Matariki is kite time, so find your favourite, get in touch with your inner child (go early for traditional kite making workshops on) at Monte Cecilia Park in Hillsborough. The new year festival is also about new beginnings, including planting, so join a tree dig too - or there are others in Highland Park and by the Whau River in Avondale. Better than your usual gardening, as there'll be musicians, good kai (some have hangi), arts and crafts, poetry and more. Good winter tradition.
Saturday, 10am-4pm. Monte Cecilia Park, Hillsborough; 10am-12pm, Cascade Walkway Reserve, Highland Park; 1-5pm, Browns Bay Village Green. Sunday, 1.30-4pm, Tony Segedin Reserve, Avondale. Free. matarikifestival.org.nz
Light and art
Maori artists are on show around the region - Peata Larkin paintings at Corban Estate; there are group exhibitions at Estuary Art, Orewa, Northart, Northcote, Papakura Art Gallery and NZ Steel Gallery, Pukekohe; Martin Awa Clarke Langdon examines past as present at Pah Homestead, while fibre and clay artists show their work at Nathan Homestead.
Clash of the clans
Waipu has always been mad about its Scottish heritage, and the maddest of its celebrations is the annual Art n Tartan Wearable Art Awards. Matinee performance or the awards evening are the fabulous climax, but check out other tartan too.
Saturday 2pm and 8pm. Waipu Coronation Hall. waipumusuem.com; facebook.com
Jolly good show
And in the mad British traditions we still have, join Last Night of the Proms with the Auckland Symphony Orchestra. Over 170 performers will indulge in the best of British pomp and ceremony, including, of course Jerusalem and Land of Hope and Glory. Bowler hats and silly flags optional.
Saturday, 7.30pm, Sunday, 2.30pm. Bruce Mason Centre, Takapuna. aucklandlive.co.nz
This weekend's weather
Follow Life & Style Online on Twitter here. Follow Life & Style Editor Nicky Park on Twitter and Instagram. Follow Weekend Life Editor Catherine Smith on Twitter and Instagram.