Greig Morgan shows you how to keep track of your favourite team.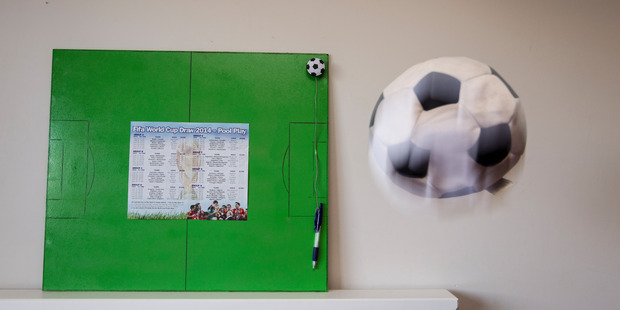 Here's a simple project to make without the need for power tools.
This was lucky for me as, on the day I had the photographer coming to take the project's step-by-step photos, I hadn't even started.
The power was out all day from the recent storm that swept the country.
I wanted to keep in with the Football World Cup theme and use the football schedule the Herald on Sunday supplied, but for the life of me I couldn't find where I had put it.
All I could find was this small one to keep the family and me up-to-date with the results.
Step 1
Using your World Cup schedule as a guide to gauge the size the MDF panel needs to be, measure and mark with the aid of a square and cut along the waste side of the pencil lines. Keep the board in proportion to the schedule. I made my board about 180mm at either end and about 160mm either side of the schedule.
Step 2
With the board now cut to size, use sandpaper to smooth off and remove all the sharp edges.
Shake the spray paint, and spray the paint about 150-200mm away in a side-to-side motion, starting at the top working your way down.
Once the paint has dried, apply second and third coats.
Step 3
Once the paint is dry, use a twist crayon or similar to mark out the centre line with the aid of a square, then tape the back of the schedule and fix it centrally to the board.
Now, mark out a border line around the edge of the board, and mark out for your goals -- remembering to keep the goals in proportion with the pitch.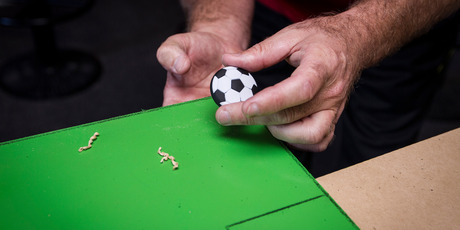 Step 4
Drill a 5mm hole in the top right or left corner, depending on which hand you write with, then cut the thread of the screw to length using a hack saw, before fixing the ball knob to the front.
Next, cut a long enough piece of flexible wire to wrap around the base of the knob and attach to a pen at the bottom of the pitch.
Step 5
Fix double-sided mount strips to the corners and centre, making sure the back is dust-free.