Rosie
82 Gladstone Rd, Parnell
Ph: (09) 369 1182
Verdict: The Hip Group strikes again.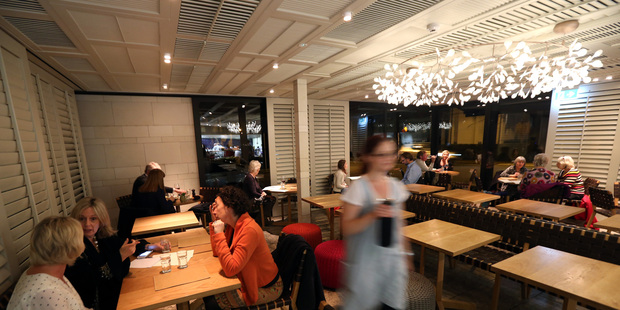 Here's something you may not know: the official name of the Parnell Rose Gardens is Dove-Myer Robinson Park. It's named after Auckland's longest-serving mayor (he held office for all but three years from 1959 to 1980).
Robbie, as everyone called him, was as eccentric as hell (he was famously interviewed bare-chested by the British TV presenter Alan Whicker) and his massive ego made up for his tiny stature.
We owe him much. We owe him our gratitude for his determination to stop the pumping of Auckland's sewage into the Hauraki Gulf. And we owe him an apology for not listening when, in the 1960s, he proposed a light-rail mass transit system.
Presumably Rosie is named for its proximity to the gardens and "Robbie" probably wouldn't have had the same ring. But Rosie -- like the previous name, Rosehip -- conjures up to me the idea of high tea: floral Royal Doulton and those little sandwiches with the crusts cut off. It's not like that at all. Rosie is part of the stable of the Hip Group, the operating name of Scott Brown and Jackie Grant.
I'm losing count of them now, but my first taste was Cafe on Kohi; Ortolana, St Heliers Bay Cafe & Bistro and Provenance are some of the others.
The design has the airy feel with funky touches that distinguishes other places in the group's operation. Recycled shutters line the ceiling. Beer and wine taps sprout from a concrete wall. The tables of light-coloured oak, many illuminated by subtle downlighting, contrast pleasingly with chairs of dark woven leather. Between the kitchen and the main room is a sort of deli counter with a glass cabinet of tempting charcuterie and cheese.
Hip Group operations make life hard for a reviewer, because there's never anything to complain about. I can still remember when the Professor and I first stopped in at Cafe on Kohi for breakfast and marvelled at the fact that everything was just right. The service was friendly but not cloying, efficient yet unhurried; the coffee and food astoundingly good -- a mixture of comforting familiarity and enchanting grace notes. It was very busy, but we felt like the most important people in the room.
In my experience, restaurants never get everything right, unless you are paying a king's ransom for your dinner -- and I have had some pretty shoddy experiences at places that charge top dollar. It's as if meticulous attention to detail is beneath their dignity somehow -- offhand is the new black -- although they're pretty meticulous about taking your money.
But I struggle to remember a single false note at one of Scott and Jackie's places: there were some poor gnocchi at St Heliers, but the maitre d' showed genuine interest in our feedback, asking for detail and shouting us dessert.
So it is with Rosie. A colleague sitting at a nearby table remarked that the waitresses' pinafore aprons were uncomfortably reminiscent of the dresses worn by teen mothers in those Irish asylums, and as a result I had to suppress a snort when our waitress addressed us in a lilting Ulster accent.
They also practise that pesky checking every few minutes that everything's fine, but everyone does that, and anyway the food they brought to the table was top-notch.
Bone marrow, which I had encountered on a coronary-inducing scale at Al Brown's Depot, was here quite a delicate thing, topped with crunchy crumbs with a whiff of rocket about them. Tongue -- a criminally underused meat -- was sliced paper-thin, folded like the pastrami in a New York Reuben sandwich, skewered, grilled and served on an artichoke puree. It alone is worth a visit.
Cured kingfish is part of a welcome trend around town to serve fish other than salmon sashimi-style and Rosie's version used fennel, chilli and lime to bring out the best in the generous chunks.
The Hip Group's characteristic style, which nestles a main ingredient in a pretty sprinkle of leaves and herbs, was on display in my mains, lending a salad's lightness to a dish of meaty hapuku.
The Prof's lamb, perhaps a shade closer to rare than it ought to have been, came with parsnip and radicchio, which made for a nice contrast of earthy and sharp tastes.
A beetroot panna cotta, decorated with crisp slices and chewy chunks of the voguish vege, was the pick of the desserts in terms of interest.
It was a perfect end to a predictably fine meal -- and in the restaurant business, predictability is certainly a cardinal virtue.