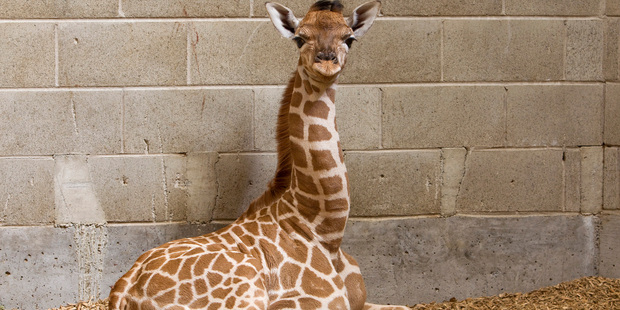 Winter Splash
There's always those hardened loonies who have to have a swim on mid-winter just to show how tough they are. Join the traditional splash at Mission Bay and you could win amazing prizes including an iPad for the best-dressed family (Hawaiian shirts optional). Or just enjoy the sausage sizzle and entertainment.
Details: Sunday, registration at 1pm, swim at 2.15pm. Selwyn Reserve, Mission Bay. Free. Website.
What's on stage
NZ Opera's dazzling production of La Traviata has love, strife and, naturally, tears at the end. This staging of Verdi's most famous opera also has gowns, chandeliers and Auckland Phil at its best. Or laugh until you stop at The Basement Theatre's production of Seed. This winner of the national Adam Play Award skewers the ups and downs (sorry) of modern reproduction.
Details: La Traviata, until June 29, Aotea Centre. Website. Seed, until June 28, The Basement. Website.
Stand Tall
Recovered from their storm trauma of last week, the giraffes of Auckland Zoo's Pridelands are ready to star in international Giraffe Day on Saturday. There'll be giraffe encounters, giraffe-themed displays and more. Time to check out how those baby giraffes have grown. Too cute.
Saturday, 9.30am-5pm. http://www.aucklandzoo.co.nz/zoo-news/upcoming-events/world-giraffe-day.aspx
Weekend warriors
You know it's a biggie this weekend when the Brisbane Broncos are back to prove a point to our Vodafone Warriors. But the real battle is on the stands, where we're aiming for the Guiness world record for the "largest gathering of people wearing one-piece pyjamas". We gotta beat the trifling 1184 fans turning up in their best onesies Hampshire, England, in February - Auckland can do better than that, one polyester furry thing at a time. And all for a good cause, raising awareness of the Kidz First Children's Hospital 'Jammies in June' campaign.
Details: Saturday, gates open 3pm for the juniors, main game 7.30pm. Mt Smart Stadium. Website.
Party hearty
The young 'uns are getting out of the classroom and on to the stage for the North Shore regional finals of the Smokefree Rockquest 2014 - the event that has been uncovering young Kiwi muso talents for the last 26 years. Or join the grownups at Britomart for Red Bull Sounds Select Block Party, where the Nathan Club, Roukai Lane and Oelans headline US hip-hoppers Flatvush Sobmies, Assies Panama and 11 local artists. Capacity is 700, so book on line
Details: Smokefree, Saturday, 7pm, Bruce Mason Centre, Takapuna. Website. Block party, Saturday 10.30pm. Website.
This weekend's weather
Follow Life & Style Online on Twitter here. Follow Life & Style Editor Nicky Park on Twitter and Instagram. Follow Weekend Life Editor Catherine Smith on Twitter and Instagram.