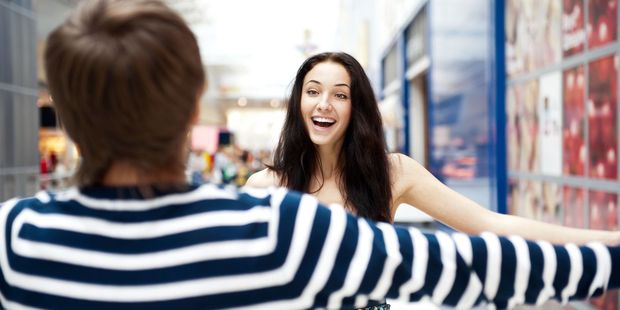 So after the whirlwind of romance, the exhilaration of finding each other and the excitement at how much you share and think alike, there can often be challenges - and summed up, they are very often about independence and togetherness.
The first sign of imbalance might be a feeling of neglect at a partner's selfishness at leaving you out - or a sense of guilt or resentment and feeling suffocated by the other's expectations.
Got a broken heart, relationship niggle, infuriating family member, or anything in between? Email your questions here and check back next Friday to hear Jill's wisdom.
Once the balance of independence and intimacy has got out of kilter, then the predictable concerns arise. Typically one partner will report feeling overwhelmed and claustrophobic and the other will report feeling undervalued and neglected.
As always, it is finding the balance between two positions of relating which holds answers to these dilemmas. To be whole, we have to feel autonomous and well as connected. Growing individually within a partnership is a way to keep the relationship healthy and robust. Of course we are all often doing things individually anyway, like working inside or outside the home - so the amount of time to ourselves as a couple might already feel microscopic - and it is this fact - the lean pickings of spare time - which can make it even more challenging to find the balance in your relationship.
How often have I heard anger from one partner that precious spare "couple time" was used up "selfishly" by the other in pursuing their own activities.
It always comes down to a balancing act - and even if that balancing act is about a very slim portion of spare time it still has to be balanced out.
Cherishing and nurturing our relationships means warding off co-dependency - a benign trap of habit which leads to negative feelings such as possessiveness, clinginess or feeling of fogginess about doing anything alone.
Research from the UK has suggested that spending too much time together can change a relationship from an intimate and exciting focus to one of platonic friendship - which can spell relationship problems often described as "we are just friends". Of course we need to be friends with our partners - but in order to thrive, the relationship needs a window flung open - and this window is composed of finding the two ways of relating.
These are about focusing on ourselves and doing the things that provide us with meaning and a sense of expansion away from the relationship on the one hand, then on the other, coming back together to share and to celebrate our intimacy and connection - all the sweeter because there is something new to talk about. All those lovely things that first attracted you to your partner can be so visible again as you enjoy their revitalized energy. Sometimes poetry can says it so well, as with Pablo Neruda: "And one by one the nights between our separated cities are joined to the night that unites us".
This advice about letting go and coming together is only of value, however, if there is trust operating in a very robust way in the way you relate. If you are insecure or suspicious or dishonest, then no amount of seeking a balance between autonomy and closeness is ever going to work. Trust is the cornerstone of the health of your relationship. Trust is also about hearing and being heard and making agreements, which spring from good intent and care about individual and relationship health.
So instead of a feeling of dread about raising your thoughts about that weekend away, consider that it is quite possibly exactly what the doctor ordered. Embrace the opportunity to farewell your partner and the opportunity in turn, to be the one to be farewelled. Look forward to the renewed energy in your partner, which is generated by time out. Watch it add value to the daily interaction between the two of you. Keep it fair and balanced and it will add to the quality of your love and intimate interest in each other.
And don't forget to block in planned time out for the two of you as well.
- www.nzherald.co.nz