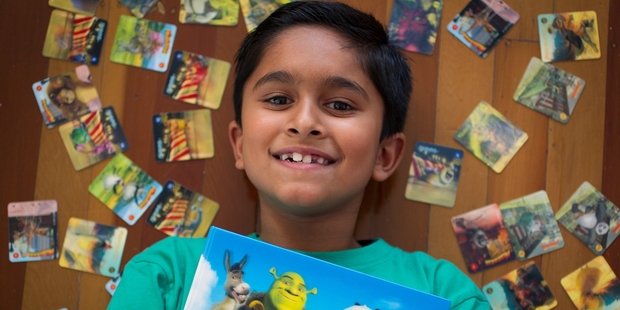 They've sent avid collectors into a spin, been banned by some schools and caused parents no end of hassle.
After this weekend Countdown's collectable DreamWorks Heroes cards are no more - though lots of parents will be dragged to supermarkets before it's too late.
The demand for the collectors' items were so high, some supermarkets ran out of the album the collected cards are stored in. But the marketing campaign comes to an end tomorrow.
AUT senior lecturer in marketing and retailing Helene Wilkinson said the interactive nature of the campaign was a large part of its success.
"This is an emotional attachment with a strong association for all members of the family. It's an engagement with the whole display, the app, the book, and in the supermarket space."
She said all these things provide continued interest after the cards had been bought.
Under the campaign shoppers gained one card for every $20 they spent.
It was Countdown's answer to New World's Little Shop of Dollars campaign last year which celebrated the chain's 50th birthday and allowed shoppers to collect tiny replica groceries.
President of the Principals Federation Phillip Harding said the promotions were "not a new thing, just an old thing in a new way".
"The critical thing is schools will either see them as a learning opportunity or tell kids to bring them at their own risk and even ban them," he said. "They're impossible to control."
Ethan Dharmai, 9, already has the full set of 42 cards and is happy to play the board game that accompanies them.
He said said it was common for students to bring the cards to St Dominic's school in Blockhouse Bay and swap them, until they were banned about three weeks ago.
To cater to the huge popularity, the supermarket introduced a "swapzone" on Facebook for people to exchange cards and held in-store swap meets in June which attracted "hordes" of children all trying to complete their sets.
For beleaguered parents the worst may be over - but be warned, there could still be some swapping going on for some time yet.
Thousands of the cards have popped up on Trade Me over the past month and a spokesman said the listings had gone from just under 400 two weeks ago, to more than 2000 this week.
He said it was no surprise the collectable cards had found their way on to the site and Wilkinson agreed.
"They've nailed it with this one, they really have."
Countdown general manager of marketing Bridget Lamont said the campaign had a positive response in-store and on the supermarket's Facebook page since it began in May.
"Over the weekend we will be offering double cards for every $20 spent in store, for any last cards that people need for their collections," she said.