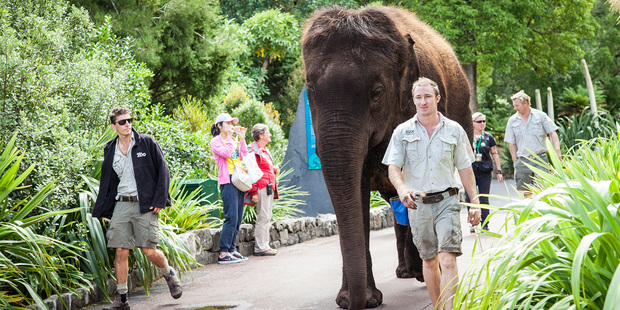 It's Elephant Weekend!
ASB is helping Auckland Zoo celebrate Elephant Weekend, with competitions, games, facepainting and money box give-aways. Oldies can head to the Old Elephant House to check out films of the zoo elephants (remember Jamuna). Brave Burma the elephant gets a weigh-in where you can get up close after her public humiliation. This jumbo celebration includes elephant walks and elephant-themed story-time.
Details: Saturday and Sunday. Normal Zoo admission, but if you use your ASB card, each adult receives one free child entry. Website.
Hawke's Bay Winter F.A.W.C 2014
Hawkes Bay's summer food and wine festivities have gotten so big for their boots, they've added four winter weekends of eating, drinking and thinking about food. Many of the events are sold out, but local restaurants (including the world famous Cape Kidnappers) have terrific FAWC deals covering delightful winter dishes matched with a good Hawke's Bay red, nothing over $50 per person.
Guest chefs including Martin Bosley, Ruth Pretty, Simon Gault, Chris Green, Michael Dearth more will be in town cooking, foraging and sharing good eats.
Details: Till June 29. 45 events across four weekends in locations all over Hawke's Bay.
Website.
Vauxhall Exhibition of Fine Art; Antiques and Collectors' Fair
Devonport's Vauxhall School's annual exhibition of fine art is a bit of hands-on (workshops all day Saturday in Claymation, photography, printing and more) plus an art show. World famous on the Shore. Or head to Avondale for the monthly collector's dream with top quality china, pottery, crystal, Victoriana, books, furniture, paintings, jewellery, vintage clothing, records and more.
Details: Both Saturday and Sunday, Vauxhall School, website; Avondale Racecourse, website.
Youth of today
Auckland Youth Choir celebrates its 30th anniversary with a concert, while Unitec's third year actors take on two of Shakespeare's best loved plays, The Merchant of Venice and Twelfth Night in crisp at a hasty 80 minutes each. The singers' theme is 'Kiwi As - Music is in our DNA', with a mix of works from local composers Anthony Ritchie and David Childs, as well as the world greats - Purcell, Schubert, Brahms, Mendelssohn, Rachmaninoff.
Details: Unitec Shakespeare Season, Saturday, 2pm and 7pm. Unitec Theatre, Entry 1, 139 Carrington Rd. Website.
This weekend's weather
Follow Life & Style Online on Twitter here. Follow Life & Style Editor Nicky Park on Twitter and Instagram. Follow Weekend Life Editor Catherine Smith on Twitter and Instagram.