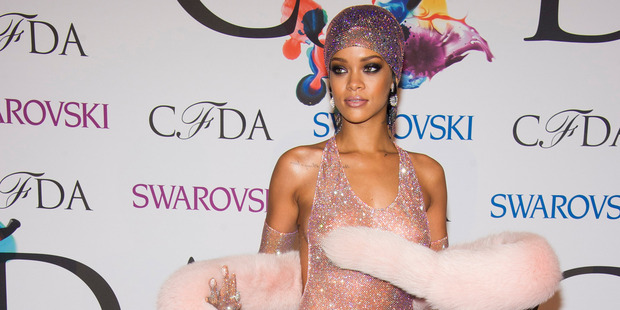 "It's so naked" - this is how Rihanna's stylist described the popstar's revealing crystal encrusted mesh dress, en route to the Council of Fashion Designers of America Awards.
Designed by Adam Selman and iced with over 230,000 Swarovski crystals, the dramatic piece was designed to be "scandalous," Selman told style.com.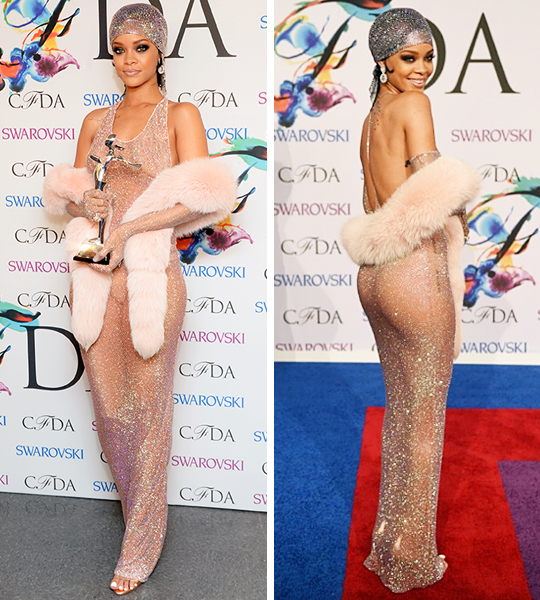 Rihanna's Adam Selman Swarovski crystal dress. Photo / AP, AFP
"The dress is just fishnet and crystals and a couple of fingers crossed. But fashion is about beauty, and the [female] body is part of that," he told style.com.
RiRi's stylist, Mel Ottenberg accessorised the dress with a pink Pologeorgis fur stole, Manolo Blahnik heels, a ring and earrings by Paul Morelli, and a pinky ring by Jacob.
Underneath, her modesty was (just) covered by a nude thong. Rihanna herself added the glittering head scarf to the ensemble.
"It brings such a Rihanna feel to the whole thing," said Selman. "It seals the deal."
Ottenberg said he wasn't sure how the look, which leaves little to the imagination, would be received.
"I don't know if it's shocking - I'm with her all the time, so my shock gauge is off, but I told her that I thought she was ready for this dress a while ago, and that I wasn't. I'm the prude, and I'm just catching up,"
The We Found Love singer collected the Fashion Icon Award from Anna Wintour at the awards this week, an honour previously given to Kate Moss, Lady Gaga, Johnny Depp and Nicole Kidman. Other names to be celebrated include the Olsen twins, who received Best Accessories Designer of the Year for their label The Row.
Gallery: Rihanna's fashion highlights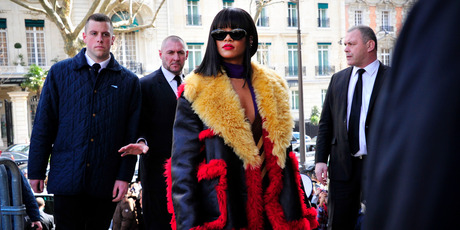 Instagram can rest easy over fears it may receive a post or two by Rihanna from the evening: she has deleted herself from the social media channel after it censored one of more risqué images recently.
Last week, Rihanna tweeted her support for Scout Willis - the 22-year-old daughter of Demi Moore and Bruce Willis - who staged a topless protest in New York in reaction having been banned from Instagram for posting a photograph of a sweatshirt she designed featuring two topless women.
However, the company's CEO, Kevin Systrom, maintains that its strict no-nudity policy is "fair".
Watch:
"Our goal is really to make sure that Instagram, whether you're a celebrity or not, is a safe place and that the content that gets posted is something that's appropriate for teens and also for adults," he told the BBC.
"We need to make certain rules to make sure that everyone can use it."
- www.nzherald.co.nz, Independent