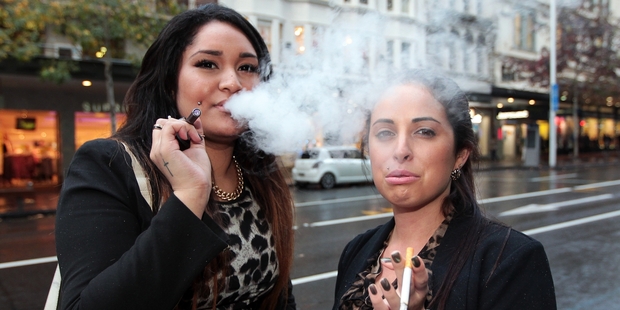 With appealing fruity flavours and an A-list celebrity fanbase, electronic cigarettes could lead young people into lifelong tobacco addiction, it's increasingly feared.
A recent study in the Journal of the American Medical Association found e-cigarette use by adolescents doubled between 2011 and 2012 - and those who had tried an e-cigarette at least once were six times more likely to try tobacco.
E-cigarettes, sold with and without nicotine, are widely available in New Zealand in flavours including strawberry, kiwifruit, chocolate and bubblegum.
The devices take disposable cartridges containing flavoured "e-liquid". This is heated and inhaled as a smoke-like vapour.
Manufacturers claim the products mimic the look, feel and flavour of the real thing - minus the tar, ash, smoke, smell and most toxins.
Users overseas reportedly include Sean Penn, Kate Moss, Leonardo DiCaprio and Johnny Depp.
Action on Smoking and Health director Stephanie Erick says e-cigarettes are the "alcopops" of the smoking world and could lure teens to tobacco. "The fact that they provide a gateway to tobacco means New Zealand shouldn't touch them."
There was not enough evidence they were safe nor was there a stringent regulatory regime in place to govern their sale and use, she said.
Auckland woman Angela Teu, who has smoked cigarettes for about eight years, said e-cigarettes had helped her cut down from a 25-pack every two days to every five days.
"They're really good. If you just use this instead it helps a lot."
The 23-year-old agreed the devices would appeal to youth, and said her 13 and 14-year-old siblings had tried her e-cigarettes.
"They're curious about smoking cigarettes but if they smoke this at least it doesn't have all the chemicals and stuff," she said.
Public health specialist Dr Murray Laugesen, who has been researching e-cigarettes since 2007, said the evidence showed they were a positive alternative.
"The fact is that young people are getting hooked on smoking as it is. The Government aim is to reduce the percentage of adults who smoke to less than 5 per cent of adults 15 and over. We do not expect the e-cigarette to interfere with this goal; in fact, we expect it to help."
He said the lack of Ministry of Health guidelines about e-cigarettes is disappointing (see sidebar).
"The fact is that 12 people a day are dying of smoking. This does not permit a conservative approach when there is a product available, on the market, which assists a large proportion of smokers to quit."
Nicotine versions outlawed, but still available
E-cigarettes containing nicotine are illegal - yet widely on sale.
The Herald on Sunday knows of five Auckland stores that sell e-cigarette nicotine cartridges and liquids. The owners said they understood they were not allowed to sell nicotine products alongside e-cigarettes, but could sell them separately.
The Ministry of Health's website says it is illegal to sell an e-cigarette that contains nicotine. It is also illegal to sell any that claim to help smokers quit.
The ministry says it recognises there are variants of e-cigarettes and is investigating sales that may breach the law.
This ambiguity has prompted calls for clear regulations by Action on Smoking and Health public health specialist Dr Murray Laugesen and Associate Professor Chris Bullen, director of the National Institute of Health Innovation at the University of Auckland.
The ministry says there is no data available on e-cigarette use in New Zealand, and it is considering regulatory options for the devices.