Danielle Wright discovers clubs happy to welcome you in out of the cold.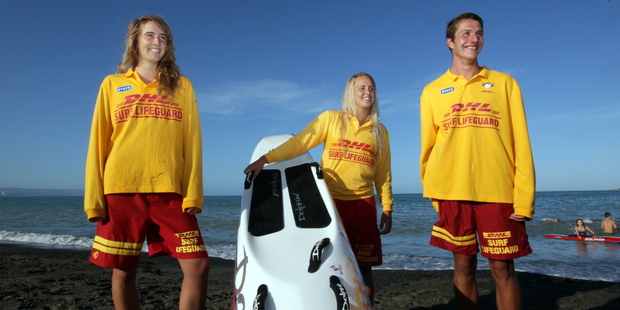 Groucho Marx famously said: "I refuse to belong to any club that will accept people like me as a member." But members' clubs are often found in the most beautiful locations - right on the beach or on a golf club course - and with every flat white or eggs benedict you buy, you are putting funds back into the community.
Clubs NZ is an umbrella organisation covering 300 clubs around the country including community clubs, sports clubs and around half of all RSAs. Join one and you'll have reciprocal visiting rights to most other member clubs. Just remember that if you're buying alcohol, you will need to be a member, or be with a member.
Here are some clubs welcoming visitors this long weekend:
Surf Life Saving Clubs
For more than 100 years, surf lifesavers have kept us safe between the flags. Theirs is always a welcome presence on any of our beaches. There are ways to show your allegiance - donating money, purchasing the official sunscreen, or if you visit a beach regularly, joining the local club as an associate member.
Some clubs offer restaurant facilities, or at least a cold drink and hot chips. Here are some options to try:
Orewa Surf Life Saving Club
We have spent years walking past the surf club in Orewa, but only recently discovered it has a restaurant and bar open to the public. The balcony has the best views in town, all for the price of a bag of crisps or fresh fish of the day.
From here, you can watch lifesavers train in front of the club, surfers duck-diving under waves, dog-walkers playing frisbee, stand-up paddle boarders getting in the way or kite surfers heading miles out to sea. You won't be served by lifeguards, but by members, with some proceeds going back into the club, so it's a feel-good food option. There aren't many surf lifesaving clubs in Auckland with this facility, so the Orewa club is special. After the Airforce bombed the channel in the estuary in the late 1950s, allowing the river to flow out to the sea, the first proper clubhouse was opened in 1960. The club raised funds by operating a skating rink on the nearby domain. orewasurfclub.co.nz
Other surf life saving clubs to try now and next season:
• The Piha Surf Life Saving Club is right on the beach -- on the south end, left of Lion Rock. From Labour Day, any member of the public can pop in for a coffee or meal. To have an alcoholic drink you must be a member, but you can join up as a supporter for $15 a season. pihaslsc.com.
• Red Beach Surf Life Saving Club is usually open to the public for Sunday breakfasts with views over the bay. However, they are currently closed for renovations. Speed up the process by donating time or money to the cause. redbeachslsc.com
• One of the more modern looking surf lifesaving clubs (costing nearly $6 million to build) is tucked away off a side street from the main Muriwai beach. It's a great discovery when you make the effort to find it. Associate membership is $30 per year and it's a community hub where you can practise yoga, learn Te Reo or participate in a monthly "open mic" music session. thesurfclubatmuriwai.org.
Community Clubs
In the modern world, you can be forgiven for feeling charity-fatigued - there are so many community groups door-knocking, at the supermarket wanting you to round-up your bill in their favour or on the phone. But there are other ways to give back to these groups without feeling pressured. You can hire a club for your next event, visit a club for a meal or join up and take advantage of the wide-ranging facilities they offer - from darts to fishing.
My husband always makes a beeline for the local RSA club whenever we visit a new town in New Zealand. It gives us a good introduction to the people in a town, as well as a welcoming atmosphere and usually very cheap food, if you don't mind clearing your plates up afterwards. It's not just for the returned servicemen and women any more, but it's nice to have the older generation mixing with the young kids, all in the same room.
The Piha RSA
The Piha RSA happily welcomes non-members in for meals, but you'll need to be signed in by a member if you are ordering alcohol, as with most member clubs. The clubhouse has been operating since the early 1940s and is a converted house overlooking Lion Rock, the bowling club and the campground. The club was originally called the Stagger Inn (for obvious reasons) and was the only drinking establishment in Piha. It's still home to some returned service people, including younger ones. Manager Sheila De Wit says, "The boys in the kitchen make a mean meal, it's well-priced contemporary food. The Piha RSA is where everyone goes and meets, it is Piha." piharsa.co.nz
Titirangi RSA
Try the Titirangi RSA, which also has a newly re-launched restaurant, Morgans (named after one of the founding members). Jenne von Pein and her chef have created a seasonal, slow-cooked family-style menu with goodies such as Jamaican jerk chicken or pulled pork burgers at prices from $10- $19. With a gym, pool, snooker, fishing, golf and indoor bowls, plus food auctions and live entertainment the club aims to be part of the whole community. You'll feel good knowing some of the money goes back to a worthy cause. titirangirsa.co.nz.
Club Mount Maunganui
Club manager Christine Young, says Club Mount (yes, at Mt Maunganui) is like the RSA but a bit more modern and upmarket. The club supports the community by offering them their facilities at a nominal charge. As part of Clubs NZ, every member who joins, owns a part of the club. Patrons tell the club the food is as good as in the high street, but at reduced member prices. Signature dishes are the pork belly and the marinated chicken with dukkah. Holiday memberships at a nominal charge can be obtained from the admin or bar staff on arrival. clubmount.co.nz.
Fishing Clubs
There's something special about the atmosphere at a fishing club with all its fishing-themed paraphernalia and tall tales to eavesdrop on. Here are some worth coming ashore for:
Bay of Islands Swordfish Club
This club is one of New Zealand's oldest game-fishing clubs, dating back to 1918. In the 1920s, American writer and fisherman Zane Grey made it famous with his book Tales of the Angler's Eldorado. Today, there are two clubrooms, in Russell and Paihia, each with collections of photos, trophies, mounts, rods and reels that show the art of fishing alongside local history. The original clubhouse in Russell is on the end of Russell Wharf looking out across the bay. The Paihia clubhouse is a few steps from Paihia Wharf with panoramic views across the water.
The "Swordy Bistro Menu" includes fish burgers, fish bites with fries, local Orongo Bay oysters, king prawn salads, seafood chowder and seafood platters. The bistro welcomes all visitors, so just introduce yourself to the bar staff on arrival. swordfish.co.nz.
Whangamata Ocean Sports Club
This is the perfect place for a quiet brag about the one that got away. There's also a Wild Food and Music Week in September where you can order smoked eel and paua sushi or ostrich moussaka. For this club though, you must be accompanied by a member. oceansports.co.nz.
Golf Clubs
Golf clubs in New Zealand have been working hard to change their image and attract new players. Take another look at the sport and stop for a bite to eat:
Pauanui Sports and Recreation Club
A popular wedding venue, the club house has a bar and a restaurant, as well as mini-golf, several tennis courts and fishing competitions alongside the golf. On Thursdays there's a roast and raffle night, but you do need to be signed in by a member. Get around this if you've got a campervan and are staying on-site. Then you get full rights. Takeaways are also available. pauanuiclub.co.nz
Whangaparoa Golf Clubhouse
The Whangaparoa Golf Clubhouse is a hidden secret some locals don't know even about; it has sea and golf course views and high ceilings so it doesn't feel like a clubhouse. It's available for weddinsg and birthdays and non-members are welcome for a meal at the bar and lounge. Again, if you want to buy alcohol you need to be signed in by a member. Choose from cafe items like cakes, sandwiches and burgers. Dress is "tidy casual", no bare feet or beach shorts permitted in the lounge. They promise you'll have "a whale of a time". wgcgolf.net
Follow Life & Style on Twitter and Facebook.