Address:
83 Symonds St, Auckland
Phone:
(09) 379 5132
Rating out of 10:
Food: 8, Service: 8, Value: 7, Ambience: 8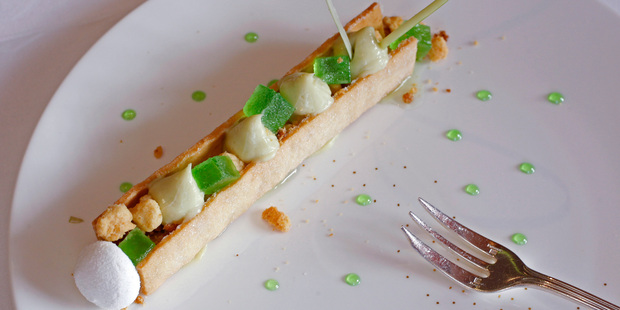 I t took us a couple of minutes to realise that the sunken tearoom at the Langham Hotel in Symonds St transforms into a fine dining restaurant at night. Since the hotel's makeover in January, Palm Court, with its velvet chairs and banquettes, must be one of the most comfortable and luxurious restaurants in town.
This night it was relatively empty. Apart from a couple a few tables away, I couldn't see any other patrons. But that's one of the great things about this space. You can't see your neighbours over the high-backed chairs, nor hear them, either.
We were greeted enthusiastically by a waiting team keen to show their stuff. Iced water was poured, a well-chosen wine list produced, starring several favourites including Pegasus Bay riesling and Hunter's gewurztraminer, which I rarely see in restaurants. And although they were pricey, at $18.50 and $14.50 a glass, they worked beautifully both as aperitifs and with our meals.
The menu was short: just seven small and five large plates to choose from. We started with a selection of three small plates to share - the pork tail, cured pastrami and hot smoked salmon - all of which had been lovingly described by our waiter. All were exceptional and beautifully presented. The pork tail had been slow-cooked until melting then reassembled into three pieces, crumb-coated and then deep fried and served with a smear of garlic mash.
The cured pastrami with red cabbage puree and pickled mustard seeds was a surprise.
We'd been told it had been cured for days, but none of us were prepared for the butter-tender texture and delicate taste the chef had achieved; and the hot smoked salmon was accompanied by sweet, pink, beetroot macaroons and horseradish. Again, though, it was served as three pieces which made it complicated to share among four. This happens all the time. Surely, in this age of sharing plates, dishes should be divided to suit the number diners sharing, up to four anyway.
By now we were feeling rather pleased with ourselves. For a hotel restaurant, this was better than I'd dared hope. And then our main courses arrived. My neck of lamb arrived in lonely splendour on a large white plate: just one boned, chop-sized piece in
the centre, surrounded by about 12 tiny cubes of lamb sweetbreads, each accompanied by a scatter of wrinkled peas and a smear of mashed potato. Although the meat was perfectly seasoned, the sweetbreads sweet, and the peas tasty, I could have
eaten it in six mouthfuls.
Mary's wagyu beef was not only cold but barely cooked and wrapped around some equally cold mashed potato, shaped like a large piece of sushi with the beef serving as the seaweed wrap. It was accompanied by a pot of warm mushroom tea, which her waiter poured into the bowl containing her beef. Exciting, yes, but on the whole, we all decided, it didn't really come off.
Meanwhile, Barry was tucking into his beef short rib and scampi tail with his usual gusto and when we all clamoured to have a taste his face fell. While his was the largest of our main courses, by his standards it was a small meal - and he did go home and raid the fridge.
Brian's gurnard tail saltimbocca was reasonably generous. The fish was wrapped in cheese and herbs topped with prosciutto, and roasted into a perfect whole. Although we'd been warned about the small bones that are apparently impossible to pluck out of the fish's tail, they did spoil Brian's last few mouthfuls.
As for the desserts, my fruit medley of thin-sliced fruit interspersed with cubes of jelly and little blobs of something sweetly creamy, covered an entire dinner plate and was delicious. Mary's lemon crumble, which arrived shaped like a thin, crumbly window box, was filled with lemon mousse and topped with squares of basil jelly and a golden hoop.
Brian's five tex choc was stacked with surprises, while Barry's large cheese platter featured New Zealand's best offerings.
Overall, this was an unforgettable dinner. We were sublimely comfortable and we could have a decent conversation. At its high points the food was brilliant and even at its low points it was fairly exciting. They also asked for feedback and we informed them the large plates' servings were too small, so hopefully they've acted on it. Oh, and they should dim the lights a little, too.
Our meal: $326.40 for three small plates, four large plates, four desserts, five glasses of wine and two coffees.
Our wine: Short and pricey but offering many of the best wines this country produces, often by the glass.
Verdict: If you want a sophisticated atmosphere, Christofle silver,
comfortable chairs and adventurous cuisine that mostly hits the mark, the Palm Court is well worth a try.
Follow Life & Style on Twitter and Facebook.