Address:
34D Portage Rd, New Lynn
Herald Rating: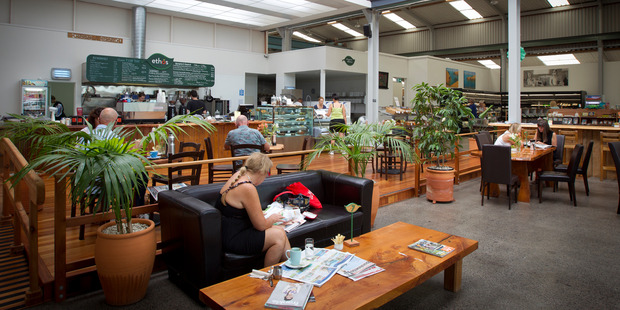 The ethos at Ethos is healthy living. It's part of East/West Organics, which runs a natural food superstore selling organic fruit and vegetables,freshly baked bread, dried and packaged goods, etc and a natural health clinic alongside the cafe.
The look is very large and airy. The cafe and food store are housed in a converted factory space with plenty of parking out the front (or it's a short walk to the cool new New Lynn train station).
The menu is vegetarian and ultra-healthy - chia breakfast trifle with apricot compote, nuts and seeds ($8.50); gluten-free coconut hotcakes with vanilla poached pineapple, berry compote, coconut yoghurt and apple syrup ($16) and rosemary-scented mushrooms with herb oil, pickled pumpkin and toasted sourdough ($16) to name a few. There are also plenty of enticing dishes from the cabinet.
We ordered the Ethos breakfast hash ($18) and the scrambled egg on sourdough ($10.50). The breakfast hash was great - a lovely mix of roasted potato, cubes of salty haloumi, sweet relish and sliced avocado, topped with a fried egg.
The scramble was just okay, but a generous serve.
The coffee was good - but the fresh fruit juices were even better, although a little pricey.
Overall, we love that Ethos' commitment to healthy organic food doesn't mean sacrificing flavour. A lot of thought has gone into creating an exciting range of menu and cabinet fare. And it's great to pick up a few things from the natural food store and the heritage garden centre at the same time.
Follow Life & Style on Twitter and Facebook.