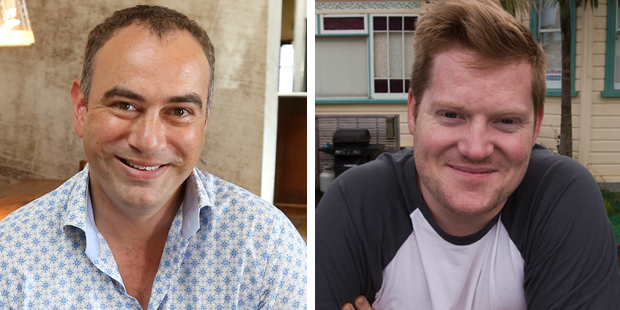 The New Zealand wining and dining scene is buzzing. And we're loving it. With the boost in activity comes a burgeoning platter of places for us to eat, drink, mix and mingle our way through. Which also brings with it a greater demand for skills and service in the hospitality industry.
All those stars working their guts out on the Auckland food scene were applauded over the weekend at the very flash Lewisham Awards held harbourside at The Cloud.
This year's list of winners included Golden Dawn named outstanding bar, Blue Breeze Inn took out outstanding new establishment, while Sid Sahrawat, SIDART, added another outstanding chef trophy to his mantle.
Lewisham Foundation chairman Chris Upton said this year's winners list represented a "cross-section of styles, not just those on the edge of the latest trend".

"There are a lot of businesses doing great things in the current Auckland scene and it is great to see both old and new being recognized for their merits," he said.
We spoke to winners in what we consider a couple of the most personable categories - outstanding Maitre d' and bartender - asking what makes them them best in the biz.
What makes a master Maitre d'?
Being the friendly face greeting guests at Auckland institution Prego, has earned Brandon Lela'ulu the title of best Maitre d'. Uber experienced Lela'ulu has spent the last 14 years (of his 25 in hospitality) working at the Italian favourite on Ponsonby Road. Now the general manager, and shareholder, Lela'ulu says floor service comes down to enriching guests' experience and caring about what you're doing.
"When I dine out, I want to be looked after by 'real people'. I don't want a robot handling my food," he says.
"An average meal can be improved by a warm, genuine smile, and robots aren't programmed to do that.
"If something goes wrong, the real test of quality is in the solution.

"Having someone who cares is a huge part of the dining experience for me. I will always feel ripped off without that."
What makes the best bartender?
It takes more than shaking and stirring to be named the best bartender, says this year's number one, Barney Toy. The playful Englishman made his way to NZ in 2006 and has been mixing it up on the Auckland scene ever since. He says it takes a whole swag of skills to become the best behind the bar.
"It's being a good host, being knowledgeable, approachable and having the ability to read people and situations," Toy says.
"Making cocktails and drinks is only one part of being a bartender. What makes a great bartender is being able to combine all of these things - making drinks, chatting to customers and giving them a full experience."

The Blue Breeze Inn in Ponsonby. Photo / NZH
Full list of winners:
Angostura Outstanding Bartender
Barney Toy, Fukuko

Beam Suntory Outstanding Bar
Golden Dawn

Caffe L'affare Outstanding Coffee Establishment/Barista
Duke Tran, Rad Café

Crombie Lockwood Outstanding Waiter
Nick Harding, Baduzzi

EuroVintage Outstanding Wine List
O'Connell St Bistro

General Digital Outstanding Maitre d'
Brandon Lela'ulu, Prego

Gilmours Outstanding Chef
Sid Sahrawat, SIDART

Menumate Outstanding New Establishment
The Blue Breeze Inn

Moana Pacific Seafood Emerging Talent
Elizabeth Birch, Eight.Two

Moet Hennessy Outstanding Hospitality Personality
Judith Tabron, Soul Bar & Bistro

Negociants Outstanding Wine Service Professional
Piers Haszard, Botswana Butchery

One Music Outstanding Existing Establishment
The French Café

Pernod Ricard Outstanding Restaurateur
Mark Wallbank, The Blue Breeze Inn

Restaurant Association of New Zealand Outstanding Sales Representative
Ben Longhurst, EuroVintage

Rubbish Direct Outstanding Caterer
Mint Kitchen

Telecom NZ Outstanding Supplier
Neat Meat

Waterfront Auckland Outstanding Local
Elbow Room
- www.nzherald.co.nz