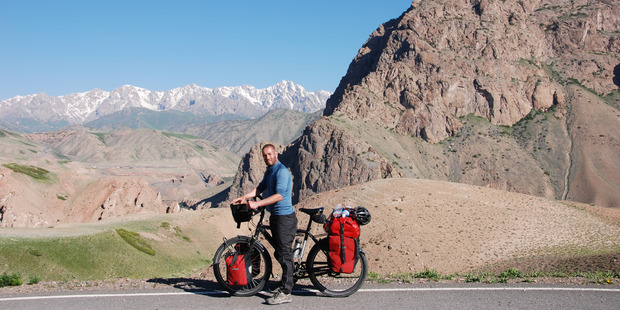 As a young boy, doctors feared Jeremy Scott would not survive life-saving surgery to repair a hole in his heart.
Yesterday, the Aucklander completed a 50,000km global bike journey.
More than two years after he pedalled away from his London flat, the 38-year-old rode into the Auckland Medical School to shake the hand of the son of the surgeon who performed the life-saving operation.
Sir Brian Barratt-Boyes completed the surgery on Mr Scott in 1977 to repair a hole in his aortic valve.
"I have lived a very active life and played a lot of sport. Looking back, it is pretty cool to think as a child I couldn't run around a field and now I have been around the world," said Mr Scott, an architectural draftsman.
Inspired by a magazine article, he cycled across about 30 countries throughout Europe, Asia and the Pacific to raise money for the Heart Foundation.
Carrying up to 65kg of supplies, he would ride alone for seven hours a day in a three-day stretch and then take two days to rest.
He went through four sets of tyres, dozens of brake pads and eight bike chains on the trip.
The toughest part of the journey came just four months after the start when he was forced to cycle through Turkey's worst winter in 50 years.
"I expected it to be quite a harsh environment but it was far harsher than I expected. Some days I started to ride and the temperature was minus 20C and it just seemed to go on forever, just these really harsh cold conditions.
"From that point on, nothing was ever as tough as it was in Turkey; it gave me the confidence going forward."
In Vietnam, a chance meeting with another Kiwi was a humbling experience. "His brother had been operated on by the same guy for the same thing a few years before me and he didn't survive. We think they learnt a huge amount from the death of this guy's brother, so it was quite a moving sort of meeting.
"Once I heard his story, I realised that I have taken my situation a bit for granted and needed to do more for the Heart Foundation because there were families like his who weren't as lucky as mine; they never got to see their son grow."
Mr Scott is more than $6000 into his $15,000 goal.
Find out more
To learn more about Mr Scott's journey and donate to the Heart Foundation visit: heartracer.org.nz/JeremyScott
Follow Life & Style on Twitter and Facebook.