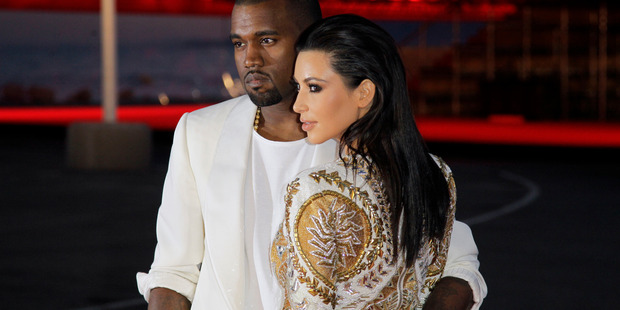 Kanye West married Kim Kardashian in a lavish Italian ceremony on Saturday - then introduced her to their hundreds of guests as 'my baby, Kim Kardashian West'.
The multi-million dollar nuptials saw the couple say their vows on a hilltop overlooking Florence, shielded by a 20ft high wall of white roses and peonies as the sun began to set at the 16th century Forte di Belvedere.
The pair were seen standing with their hands clasped watched by rows and rows of their 600 guests - who did not include Kanye's friends Beyonce and Jay Z or Kim's brother Rob.
Kim chose a demure mermaid-silhouette gown in delicate white lace custom-made by Givenchy, who also designed a little white dress for her 11-month-old daughter North.
Small panels of a sheer lace decorated the arm and also accentuated her slimmed down waist.
The backless dress was long-sleeved with a train, while a dramatic flowing white cathedral-length veil completed the look.
The bride's hair was worn loose and long, with her make-up restrained and flawless.
Guests stood as Kim came face to face with her fiancé, who wore a black Givenchy suit.
The couple gazed at one another as the vows were said under the direction of Rich Wilkerson Jr, a pastor from North Miami.
Kim's bridesmaids, her sisters Kourtney, Khloe, Kendall and Kylie were all dressed in white, although their dresses did not match.
They sat front row next to mother-of-the-bride Kris Jenner, also in white, and Bruce Jenner, who like most of the male guests wore a black suit.
Grandmother Kris held baby North on her lap, while Kourtney had little Penelope on hers.
Speaking moments after the ceremony to E! News, who film the family's reality show Keeping Up With The Kardashians, Kris Jenner said she was "beyond bursting with happiness for Kim, Kanye and baby North."
"Such a magical, romantic wedding!" she added. "I feel blessed to have my new son and his family as part of ours."
And Kanye seemed equally ebullient, with a source telling MailOnline he gave an eight-minute speech to the gathered guests.
"I just wanna stop the music a second 'cos my baby's coming back with a new dress on. Here she is - Kim Kardashian West," he said, introducing his bride.
After the ceremony the guests broke bread together sitting family style on a 70-metre-long marble banquet table - a gift from master craftsman Gualtiero Vannelli who used marble from the Tuscan quarry in Carrara, according to Us Weekly.
And as Kim finally relaxed her strict low carb diet, they feasted on traditional Italian food with an "innovative" twist.
The menu included chicken, salmon, steak, tortelloni, strawberry gelato and both rose and gold Armand de Brignac champagne.
The food was color-coordinated with pink being the theme. And the meal culminated with a towering seven-foot wedding cake of white sponge and white icing with fruit layers, reports People.com.
During the ceremony famed Italian tenor Andrea Bocelli serenaded Kim and Kanye with several of his songs, including Con te Partiro.
Then pop star John Legend took over festivities as the party began in earnest.
A source told MailOnline exclusively that he played At Last, thought to have been the couple's first dance, followed by All Of You.
And in a short speech he told the newlyweds: "Kim and Kanye. It's really inspired me to be here.
"All these wonderful people here - it's a celebration of your love."
The crowd jokingly heckled him as he referenced Kanye's ex girlfriends.
"I've seen Kanye with other women," he said. "I'm serious... this is a bad speech but I have never seen him as in to someone as he is in to you Kim.
"He was so in to you before he was even with you. He is in love with you. I am so happy to see you two together."
The singer also played Ordinary People, getting the crowd to sing along.
And there was a shout out to "the mother of the bride".
As the dancing began - tracks including Beyonce's Drunk In Love, showing that there were no hard feelings despite the singer's absence.
But it was Kanye's All Of The Lights that got the party-goers crowding the dance floor.
And a magnificent fireworks display lit up the night sky as they danced.
The wedding was organised by long-time Kardashian family friend and celebrity event planner Sharon Sacks - with much direction from Kanye.
Sacks also planned Kim's 72-day second wedding to Kris Humphries in 2011.
Despite the huge guest list Beyonce and Jay Z did not the couple for their big day.
Instead Beyonce posted a picture of herself in bed, make-up free, before later tweeting a snap of Kim and Kanye's Vogue shoot with a message wishing them "a lifetime of unconditional love".
And while Jay Z was widely expected to be Kanye's best man, he did not attend.
Another notable absence was Rob Kardashian, Kim's only brother.
The 27-year-old sock designer left Paris early on Saturday morning on a flight for Los Angeles.
His decision followed a row with Kim prior to the pre-wedding lunch at designer Valentino's chateau.
A source told X17: "Rob said he was sickened by Kim and Kanye's display of wealth and clothes and beauty and called it 'superficial bulls***' but Kim was pissed that Rob hadn't made an effort to drop any weight over the past few months.
"Rob basically thinks Kim cares about him only for his appearance and he said he'd 'make life easier' for her and just leave."
The no shows certainly missed an incredible night, with a mixture of close family and friends, and the pair's celebrity chums dancing the night away.
Guests included Chrissy Teigen, rapper Common, Vogue's Andre Leon Talley, celebrity magician David Blaine, designer Rachel Roy, founder of burlesque troupe The Pussycat Dolls Robin Antin, and Kim's besties LaLa Anthony and Brittny Gastineau.
One of the first to leave was Kim's grandmother Mary Jo, who at 78 has herself been married three times.
By 1am the dancefloor was still heaving as music blasted, with MailOnline observing one female guest leaving barefoot as the festivities continued.
Kim had earlier arrived at the wedding venue with Mary Jo, shortly after catching a private jet from Paris with her bridal party.
Rapper Kanye West arrived alone about 90 minutes earlier to check up on the preparations.
An eyewitness told E! News'A convoy of cars arrived at around 3pm local time. Kim was in the first car, which was a Mercedes-Benz.
"They drove the car right up and her assistant opened the door and Kim dashed in. She looked to be wearing white.
"Kourtney was carrying her daughter Penelope and her son Mason - in a red-striped outfit - followed behind.
"Kris Jenner got out of second car wearing a black suit. And she put a big professional camera on a strap on her shoulders. She has obviously been taking professional pictures to remember the occasion."
- THE DAILY MAIL