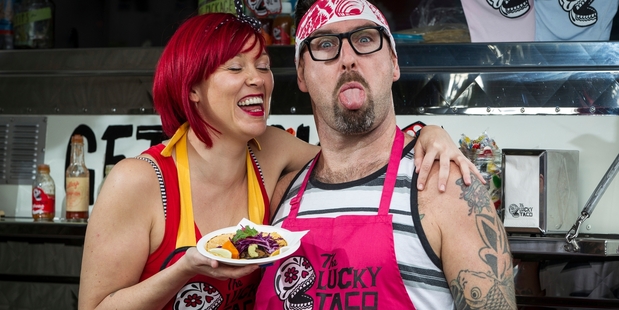 If lambs' brain tacos, sharing plates of bone marrow and a pig's head terrine sound more Fear Factor than restaurant fare — think again.
The "forgotten cuts" are staging a comeback.
Popular Auckland eateries are offering more adventurous dishes and butchers are selling more tongue and cheek.
Ponsonby food caravan the Lucky Taco celebrated its first birthday last week by giving away free lambs' brain tacos.
Owners Otis and Sarah Frizzell chose lamb brain to "challenge our customers" and also to get feedback on their latest offal addition.
"We already sell around 60 beef-tongue tacos on a Friday, that's about 4kg of tongue," Sarah Frizzell said.
"We had huge success with the lambs' brain taco as well, people loved it. It will definitely be on the menu again soon."
Turning raw tongue into something edible takes a day of scrubbing, boiling, chilling and marinating before it is sliced and thrown on the hot-plate.
"It is so good we take any left-overs home for dinner," Otis said. "I would go so far as to say my death-row dinner would be these tacos."
The pair, inspired by a trip to Mexico, would like to add toasted grasshoppers to the menu and have even considered "machitos", or sheep-scrotum tacos. Tripe tacos were "nice" but the putrid cooking smell put the pair off.
Ponsonby restaurant Orphans Kitchen is adding a boil-up of pig's head terrine and blood sausage dough-boys to its menu, and at Wynyard Quarter's Baduzzi, shaved wagyu tongue is one of the most popular dishes.
Meat appreciation group the Offal Club recently hosted a dinner at Coco's Cantina in Ponsonby with goat tripe, sweetbreads and venison heart on the menu.
The trend of using every part of the animal, from the tip to the tail, is not exclusive to restaurants or Grandma boiling tripe and onions at home.
Lucia Rodrigues of the Grey Lynn Butcher said an increasing number of younger people were buying offal nowadays.
Eye fillet is priced at around $42 a kg, whereas beef tongue can be purchased for a considerably cheaper price of around $13.99kg.
Customers could expect to pay $22.99 per kg of lambs' brains, which comes to $2-$4 a brain, and Rodrigues is happy to give people recipes and tips on how to cook it.
"With brains you can egg-wash it and fry it in breadcrumbs or add chillies and egg and make it into an omelette," she said.
Rodrigues had also seen an increase in the sale of crocodile meat, imported from Australia, which she has been stocking for more than three years and sells at around $90 a kilo. "I sell about 2kg a week and it is getting more popular," Rodrigues said.
"It's flaky like fish but tastes like chicken — people even put it on pizza."