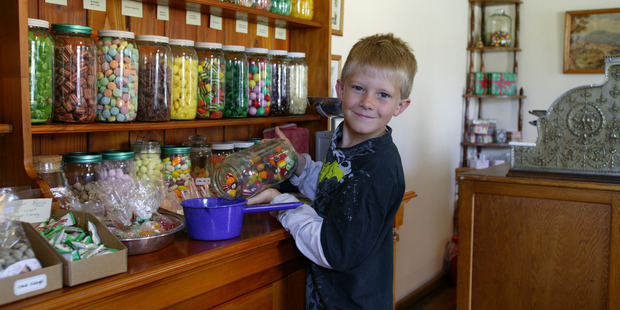 1: The Old Lolly Shop
In an arcade in Takapuna's ever-gentrifying Hurstmere Rd, the store's lolly-makers produce custom lollipops (and throw parties to match your theme) as well sell old-time favourites like toffee brittles, hokey pokey, sherbets, butterscotch and proper liquorice, even gluten-free and sugar-free sweets.
Lollymaker in-store classes Sundays 9.30am-12.30pm.
Shop 3 Parkway Arcade 50-60 Hurstmere Rd, Takapuna.
2: NZ Fudge Farm
One of the centrepiece stores of Whangarei's cute town basin, the Fudge Farm hasbeen hand-making fudge from their own farm ingredients for over 20 years. You won't stop at one packet, tempted by creamy classics like Russian caramel, whiskey or rum and raisin, as well as dessert sauces, chocolates, gluten-free and diabetic options.
NZ Fudge Farm Cafe, Shop 3 Town Basin, Whangarei.
3: Birdwoods Sweet Shop
Just a pretty country drive away from Havelock North, Birdwoods' shop looks like the work of movie set designers: sweet cottage with jars and jars of every favourite lolly ever - more than 40 varieties, purchased by the pound (on an old-fashioned scale). Try bonbons, humbugs, granny mints, acid drops, aniseed balls fudge, sherbets, liquorice, as well as local Rush Munro icecream, plus a stylish tea and gift shop next door for the grown-ups.
Birdwoods Sweet Shop, 298 Middle Rd, Havelock North.
4: Bennetts of Mangawhai
Bennetts hand-make their chocolates from the best Belgian couverture, filled with local ingredients for the pate de fruit with real Kiwi tastes - feijoa, kiwifruit, tamarillo, quince. With a stunning French-style courtyard cafe, gift shop and restaurant, this is worth a Sunday drive.
Bennetts of Mangawhai, 52 Moir Street, Mangawhai.
5: House of Chocolate
Tucked unexpectedly in a corner of Beach Haven shops, Dianne Sussex's store is a treat. She and her mother hand-make their chocolates, specialising in dark couverture chocolate. Better still, they sell online - their Chocolate Club even delivers a monthly swag of three treats so you don't have to think about your next fix. Overdose if you must at the dessert cafe (there is the odd waffle, for relief). Open daily, including Fridays and Saturdays until 9pm.
15 Sunnyhaven Ave, Beach Haven.