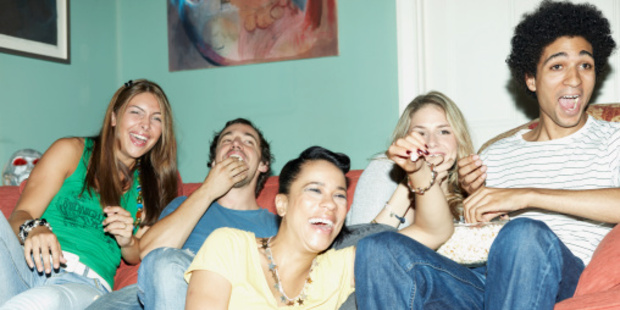 Now that my flatting days are behind me, I've decided that the whole concept of having flatmates and living with perfect (and not-so-perfect) strangers is downright odd.
Shared with four or five other university students, my first flat was in Salamanca Road, Wellington. We had just one joint shopping expedition before deciding that communal groceries were not a long-term strategy.
At the supermarket we three girls had chosen yoghurts and apples that we optimistically had earmarked as our lunches for the coming week. How wrong were we? That very afternoon the boys sat around the table in our grotty kitchen and effortlessly consumed what would have been 15 separate lunches. We were mad as that they'd snacked on our low-fat meals and refused henceforth to share any occasional food with the blokes. From memory we each had one night a week to cook dinner; other than that we must have fended for ourselves.
Years later I enjoyed flatting with girlfriends in an old house on The Terrace but I didn't relish having to occasionally advertise for new flatmates as people shifted out.
To be fair, we always did manage to find lovely replacements and the only hiccup was the guy who kept his motorbike in the hallway. I once wrote that such an experience is "character building" but actually I don't really see how dealing with someone who brings his transportation indoors enhances personal development.
There was also a point at which I wanted to shift into an established flat. A lot like job hunting, the interview process was soul-destroying. Of course, being rejected as a flatmate was worse for the ego than not getting a job, because it was yourself and your personality (rather than your skills and experience) that were considered undesirable.
I did end up being accepted by two guys in Lower Hutt but, rather than be pleased I'd been successful, I chickened out of living with a pair of strange men. While flatting with friends can be an absolute blast, choosing to share a house with people you've met just the once seems unnecessarily risky.
I'm aware I need to get better flatmate stories. Men bringing motorbikes inside and gorging on diet food is pretty innocuous stuff. On reflection I wasn't perfect either. I recall one patient flatmate scraping tomato and mozzarella off the wallpaper after I'd found a novel way of getting rid of surplus pizza.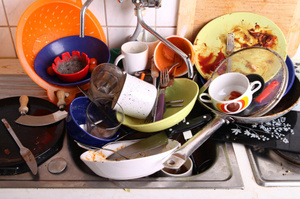 Evidently, the Top 20 arguments between housemates include: leaving dirty dishes in the sink, eating someone else's food, boyfriends or girlfriends staying over too often, playing music too loud and hogging the bathroom. Nothing much has changed since my day, then.
But is it "flatmate", "housemate" or "roommate"? Maybe it depends on which part of the world you're in. "Roommate" is a US term and one that seems just wrong unless, of course, the sharing of a bedroom is involved. And, even though "housemate" seems the most accurate, "flatmate" is the word that persists around here.
So how do you choose a good flatmate? Realestate.co.nz lists ten questions designed to suss out what type of person the prospective candidate is. Encompassing bathrooms, pets, washing up, friends and sleepovers, it's a worthy attempt at sorting out the desirable from the dregs. If it also covered attitudes towards yoghurt, apples, motorbike storage and pizza throwing I reckon it would be pretty much foolproof.
What have your flatmates been like? Was flatting a positive experience for you? Does sharing a home with a stranger strike you as potentially risky?