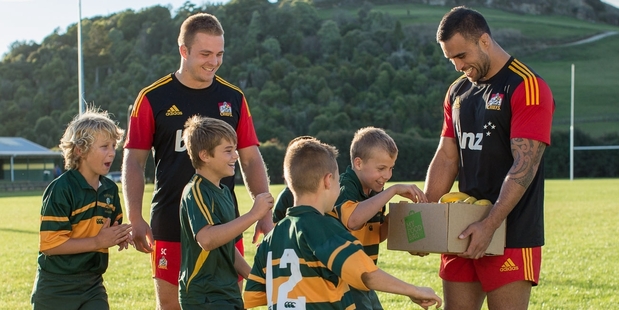 Real men eat five-spice duck with kumara mash, plum sauce and bok choy — and they know how to cook it too.
Takeaways and last-minute meals are off the menu for the Super Rugby champion Chiefs rugby team as they commit to ready-to-cook meals.
The team have signed up for the DIY fresh home-delivered My Food Bag, designed by MasterChef winner Nadia Lim, and have had exclusive lessons with her in meal preparation.
Chiefs captain Liam Messam said cooking meals had brought him closer to his wife and son.
"There is plenty to go around and there is enough for lunch the next day too," Messam said.
Loose forward Sam Cane said using My Food Bag had kept younger players away from the kebab shops at night and gave them an edge in training.
Lim said she was pleasantly surprised by the cooking abilities of team members. "They are all actually pretty good cooks but their busy lives meant a few of them ate takeaways," she said. "Their team dietitian is a big supporter of My Food Bag because it provides the balance they need for games and training."
Team members with higher protein or carbohydrate requirements were taught easy ways to tweak recipes to suit, Lim said.
Team dietitian Dane Baker said the weekly delivery made it easier for the busy players to stay committed to healthy eating.
The team will today kick off a TV ad campaign aimed at promoting the fresh food delivery system to other athletes.