From edible stilettos to mini-cakes, Danielle Wright indulges her sweet tooth and finds out what's new on the sugar-coated cooking circuit.
Marvellous macarons
They may taste a bit sickly sweet, but the dainty macaron is not only a very pretty petit four, it's also one of the longest-lasting. It was introduced by Venetian monasteries in the 700s and peddled all over Paris by street vendors in the 19th century.
Our macaron master for the evening, Jessica Cole, tells us there are two kinds - the French (very temperamental and hard to make) and the Italian (more forgiving and common). We're watching her make the Italian version.
To start with, even dry ingredients - such as almond meal - must be further dried out in the oven and then sieved. The sugar syrup needs to be heated slowly, dampening the sides of the pot to stop crystallisation; it must only be stirred the beginning. It's all very precise and time-consuming but would be a good way to spend an afternoon with a teenager (but not a rainy one as that plays havoc with the recipe).
"Everything is done slowly. Making macarons is time-consuming," says Jessica. "You really have to love someone to make them a macaron and there's plenty of time to think about them as you cook."
Cole makes the ganache (pour hot cream on the chocolate and whisk), which will be sandwiched between the delicate almond biscuit bases. LorAnn oils flavour the ganache - choose from guava, cheesecake, bubble gum, praline, salt water taffy, Champagne or key lime. There are even savoury macaron flavourings. Adriano Zumbo's book Zumbarons includes recipes for macarons flavoured with Vegemite, salt and vinegar, wasabi and pickled ginger.
Pre-made lilac and mint-green macarons are handed out for us to play with and sandwich with ganache. Jessica offers us all the fun stuff - glitter, cake sparkles and edible paints.
I write my kids' names on mine before I read the box saying the paint "may have an adverse reaction on children's attention". I make a mental note not to pop them into their school bags.
Donna Marshall, who is sitting nearby, was given the macaron lesson as a 50th birthday gift from her sister-in-law, Melissa Marshall. The pair intend to make macarons together, but are not in any hurry after seeing how hard it is to get right. We agree it feels great to play with all the different cake-decorating tools and come home with perfectly formed macarons to show the family. The best bit is no sticky washing up afterwards.
• Milly's has a great selection of classes, including the high-heel JEM shoe creations, vintage cupcakes, Dolly Varden, ombre and ruffle buttercream techniques, and a few teen cake pop and cookie icing classes. The two-hour macaron class is $50: millyskitchen.co.nz

Itsy-bitsy mini-cakes
When I tell my friend I'm doing a mini-cake class he says, "Doesn't sound very cool from a half-Samoan perspective, now monster cakes - that's a story!"
But these little beauties sound much easier to master for a give-it-a-go cake decorator like me who has struggled for eight years to make children's birthday cakes.
Milly's developed the class to showcase its extensive range of dessert pans - there are heart-shaped mini cake pans, whoopie-pie pans in star shapes, icecream on a stick mini-cake pans and brownie bite pans, to name a few.
We are given four cakes to work with - each a bit bigger than a large muffin. Applying the fondant topping is a breeze compared with trying to cover a larger cake. It feels like working clay on a pottery wheel as I smooth it on the tiny cake.
Sitting next to me is Robyn Matthews, a grandmother of seven. Instead of Easter eggs, she has decided to make each child an Easter-themed mini-cake.
Nicola Crawshaw has brought along her 10-year-old nephew, Matthew Newton, who's doing the baking lesson after playing a game of soccer. He wants to learn to bake treats to take to the school gala.
One condition of his coming today is that he gets to eat all of his creations ­- Nicola says she'll pass him back to his mum once the sugar starts to kick in.
Norah Jones croons from the stereo and, as I look around the room, I notice everyone is totally absorbed in their work. I'm surprised there are no tongues poking out of mouths, lost as we all are in total concentration.
Mini-cake decorating is easy, fun and quite delicate work, so it's also therapeutic. When I return home with four perfect-looking mini-cakes, my son says, "That's the best baking you've ever done".
It makes a change from my family's usual, "What is it?"
I feel like Alice in Wonderland as I cut into one mini-cake and hand around the tiny slices. The whole cake is gone in 60 seconds and for once there are no leftovers to throw away after the party. From now on, mini-cakes are the new birthday treats in our home.
• Various themed mini-cake classes are available at $70 for a three-hour class: millyskitchen.co.nz

Where chocolate-making meets art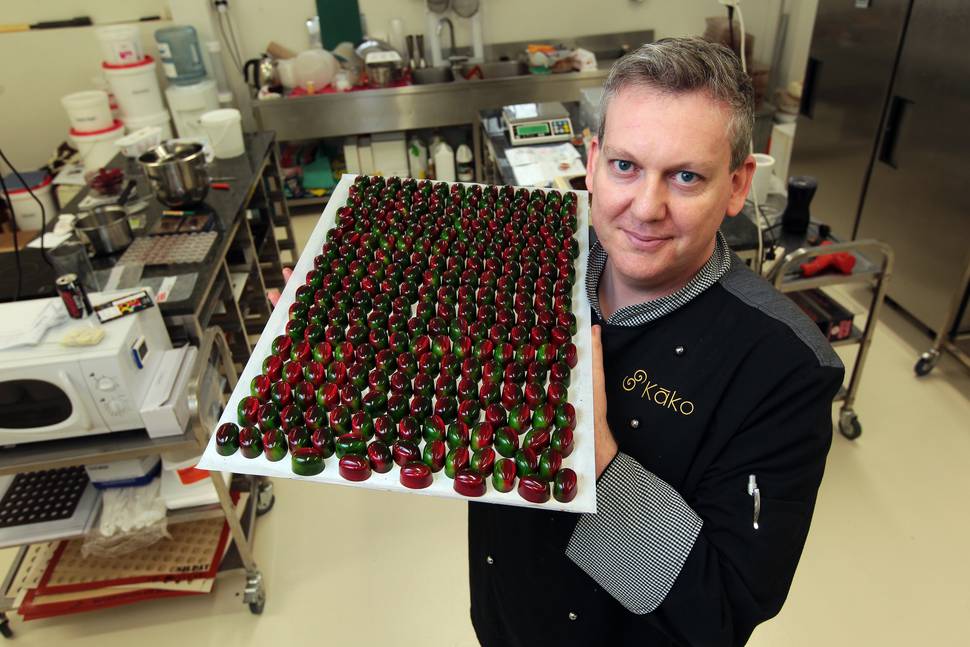 Stu Jordan, Kako Chocolate's Executive Chocolatier, is originally from Invercargill and tells us he has two class rules - everything we make, we take home with us and if he messes anything up, we are given a chocolate from his storeroom. Therefore, a little bit of ganache sloshed over the side of the mixer results in a heavenly salted-caramel chocolate.
It's win-win for the students, who range from mothers with their daughters, those here as a birthday gift and one baker, who tells me making dessert is much more fun than making bread. The baker is in for a bit of teasing during the class though, because Jordan believes everything a baker has learned is the opposite of a chocolatier's technique.
The class is a bit like a delicious-tasting chemistry lesson - we emulsify this and temper that and learn about crystallisation. Jordan even adds lemon oil with a dropper and does fancy diagrams of the process on a whiteboard.
"I can teach you how to make chocolate, but you need passion to create flavour," he tells us as we polish our polycarbonate moulds with cotton balls to ensure the chocolate comes out shiny.
Jordan was made redundant as a national sales manager for Logitech a few years ago. He said it was hard because so much of his identity was invested in the role but, luckily for us, he turned to his real passion, chocolate.
He says it's what he always should have done and by coming to the industry "sideways", he has developed a different way to do things than his peers. His idea is to always think of chocolate as art; to tell a story with his chocolates.
"Our brand is to be eaten at once, so don't suck the inside out first; they are little works of art," says Jordan. "Each one I make is my personality expressed through chocolate."
He adds an extra splash of Baileys into our chocolate ganache for the token Irishman in the room and says it's the "chocolatier's prerogative" to up the ingredients whenever they like.
We play with the moulds and fill them with ganache, as well as dipping square ganache (cut with a "guitar cutter", which slices with real guitar strings) into vats of chocolate.
During the dripping we're told "drop it, go fishing and then bounce it like a trampoline".
At the end, Jordan casts his eye over our chocolate, set out in lines. He gets to a particularly good patch: "Who did these?" he asks, taking a close look. "These are very, very good."
The baker meekly puts up his hand. Perhaps a sideways move might be as good an idea for him as it was for Jordan.
• Introduction to Chocolates costs $129 each. There are also masterclasses in introduction to truffles, ganache and tempering, as well as Markets and Business 101 for anyone wanting to create a business out of chocolate. It's a bit like a chocolate university, where the 401 classes can only be taken if 301 is completed. There's also one-on-one tuition available: kako.co.nz

Other sweet options
• For a fun yet affordable option, the Homestore in Milford Mall has a range of cake-decorating classes, as well as a monthly cake competition. School holiday cupcake-making for children 8-plus is $10 each: milford.homestore.co.nz
• When you love baking but don't want to eat it all yourself, become part of Baking for Hospice, which is run by a young medical student whose father spent some of his last days at the North Shore Hospice. This is her way to give back and more than 100 home bakers help out every few months with themed treats: bakingforhospice.wordpress.com
• If you have a project and need help fast: call a cake coach for a one-on-one lesson. Nina Blackburn from Make Pretty Cakes also arranges cake-decorating parties for children or adults, including hens' dos, birthdays and corporate events:
makeprettycakes.com
• Teach the kids five-star recipes at the Heritage Hotel's Kids Rule High Tea - it lasts for two hours and is a behind-the-scenes experience with top pastry chefs, where the kids make the parents an exclusive high tea. It's often on during school holidays - check "special offers" at heritagehotels.co.nz for the next Auckland event.
• Spotlight stores sell all the tools to create push-up cakes on a stick - a kind of push-up lollipop made of layers of cake or brownie and buttercream. Perfect for kids' party favours.