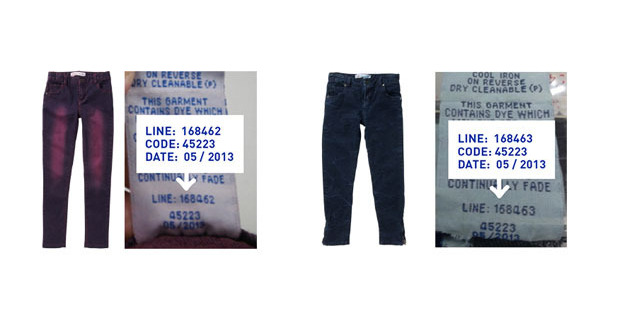 Clothing retailer Just Jeans has voluntarily recalled four children's garments containing potentially cancer-causing dyes.
The products were part of a widespread recall of textiles in Australia which contained high concentrations of azo dyes, which can break down to form a carcinogenic substance.
Read more: Hazardous dye sparks massive recalls
Just Jeans has recalled four garments sold in New Zealand: junior girls' super skinny jean in dark purple, junior girls' zip ankle skinny jean in dark navy, OMM junior boys' skinny cargo pants in forest green, and OMM junior boys' cargo shorts in khaki green.
The recall notice said experts have classed the dyes used in making the products as carcinogenic, and exposure should be minimised.
"While this dye stuff is not banned for textiles use in New Zealand, Just Jeans is initiating this action as it does not meet Just Jeans' strict quality assurance standards," the company said.
Azo dyes are synthetic colourants used in many consumer products, including food, cosmetics, carpets, clothes, leather and other textiles.
Some azo dyes contain or can break down to form aromatic amines, some of which have been classed as carcinogenic by the World Health Organisation.

The products in this recall were all supplied by a single manufacturer in China, and Just Jeans had now terminated its relationship with this supplier, Just Jeans said in a statement.
"We will not deal with any manufacturer that breaches our standards.
"Product quality and consumer safety are paramount in everything we do. We have strict guidelines on the production of all of our goods and we require all our sourcing agents and manufacturers to meet our standards.
"We have a zero tolerance policy in relation to the use of certain azo-colourants and we have initiated this voluntary recall as a result of non-compliance with our standards.
"While local authorities do not ban the use of these dye stuffs in textiles, we have been engaged with the Consumer Product Safety branch of Trading Standards in New Zealand on this matter as we understand this is a broader industry issue.''
Just Jeans said all of its garments would continue to be tested independently to ensure the safest standards for customers.
Martin Rushton, Ministry of Business Innovation and Employment team leader safety and technical, trade standards, said the ministry was awaiting further information from Australian authorities on dye testing.
"Once we have received their formal report we will assess the potential for risk in New Zealand," he said.
"In current Australian reports we note that the risk of exposure to a particular type of Azo dye is categorised as being very low, however we recommend that consumers stop wearing any clothing that has been recalled and contact the retailer or manufacturer for more information."
MBIE said the four Just Jeans garments are the only products it is currently aware of with unacceptable concentrations of the dye, but it is waiting on the report from its Australian counterparts.
It is the responsibility of manufacturers to ensure they are using chemicals within prescribed levels, MBIE said.
The Just Jeans recall notice for Australia and New Zealand was issued on April 23.
The Australian Competition and Consumer Commission (ACCC) on Thursday released details of recalled products from retailers Rivers Australia, Just Jeans, Pillow Talk, Trade Secret, Target and Myer.
ACCC said 28 product lines and more than 121,000 products had been recalled, and more recalls were possible in the coming weeks.
While consumer exposure to the dye was low, ACCC said the associated cancer risk gave cause for concern. Direct and prolonged contact with skin was needed to cause exposure to the chemical.
Details of New Zealand recall (printed on reverse side of care label)
- Just Jeans Junior Girls size 8 to 16 Super Skinny Jeans, colour dark purple, line 168462, code 45223, date 05/2013
- Just Jeans Junior Girls size 8 to 16 Zip Ankle Skinny Jeans, colour dark navy, line 168463, code 45223, date 05/2013
- OMM Junior boys size 8 to 16 Skinny Cargo Pants, colour forest green, line 168849, code 45223, date 05/2013
- OMM Junior Boys size 8 to 16 Cargo Shorts, colour khaki green, line 168867, code 45223, date 05/2013
Customers should cease using the product and return it to a Just Jeans store for a full refund.
For more information, phone 0800 444 006, email: justjeansproducts@justjeans.com.au.
- APNZ