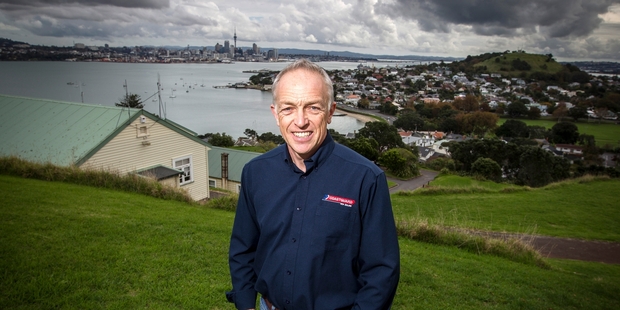 My happy place is North Head in Devonport, where I live. It's a very special place for me. Not only is it a place of beauty and tranquillity, but from there I can watch our Coastguard rescue vessels coming and going and feel very proud about what our volunteers do.
I moved to New Zealand from England just over eight years ago, and Devonport was one of the first places I came to. It really is like a little oasis of calm.
North Head is steeped in military and Maori history, and it has magnificent 360-degree views to Rangitoto and the islands, and the city. Whatever the weather, my daily routine is to get up early and walk from the village along Cheltenham Beach, up North Head and back.
In summer I'll do it twice a day - I'll start the day up there and, when time allows, end the day up there. It sets me up for the day, as well as providing a full stop afterward.
There's a space where one of the gun turrets is placed, which gives a great view back to the city and to the Coastguard base at Mechanics Bay and - looking the other way - to Waiheke.
I generally get there and pause and remind myself why I'm here and how lucky I am to be in New Zealand.
One of the reasons I work for Coastguard is that I once had a near-death experience with my son, who was then about 4.
We were on a small boat in the southwest of England, coming back into the harbour, when we got caught beside a large vessel using its bow-thrusters to manoeuvre.
This vessel was towering over us and its wake started to take our little boat under. It was pretty scary - I got hold of my son and got ready to try to throw him to safety, but our skipper managed to get the other skipper's attention and the bow thrusters were turned off. So I know how it feels to be on the water and fearful for your life.
I'm in huge admiration for what our volunteers do, out there saving people in all conditions. We have nearly 2500 volunteers and last year they gave us more than 300,000 hours of time. They're real heroes - ordinary Kiwis doing extraordinary things for their local communities. Being up on North Head reminds me of that and it gives me a sense of peace and reminds me why I left grey, cold and wet England and came to this beautiful country.
- as told to Bronwyn Sell