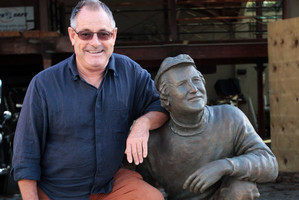 Passersby would often mistake Les Harvey for the gardener as he was weeding flower beds in streetside plots rather than the owner of much of Auckland's finest real estate.
The self-styled patriarch of Parnell, who died in 1994 aged 78, is to be immortalised by a statue in the suburb's lovingly restored Victorian village that was his life's work.
"It shows him as he was: gentle and working," said his son Kevin Harvey, pictured with the statue.
Les bought many of the old buildings along Parnell Rd in the 1970s and began restoring and developing them himself.
"When he saw all these rundown places, he decided he wanted to do something beautiful," Harvey said.
A generation on and the village is one of Auckland's gems. Tourists and coffee lovers flock to the shops and cafes along the meandering brick avenues and courtyards.
Harvey said the family firm still had more than 100 tenants and he estimated the company's portfolio to be worth more than $150 million.
"It's made it a living, historic thing so people can enjoy it and be part of it."
The bronze statue, by Otago sculptor Minhal Al Halabi, will be unveiled on Friday .