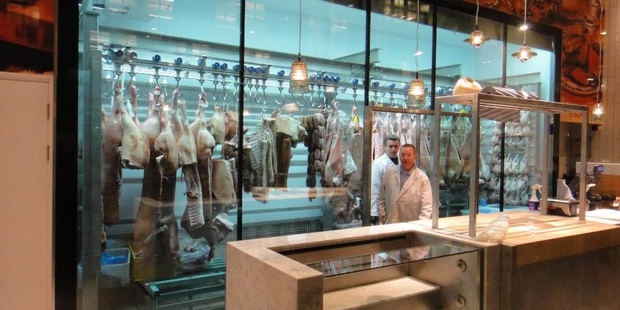 Jamie Oliver's exclusive butcher's shop had to temporarily close after inspectors found serious hygiene problems including mouse droppings, mould on carcasses and out-of-date wagyu beef.
Barbecoa, located near St Paul's Cathedral in London, closed its doors for 24 hours after public health officers scored it one out of five in January. It reopened after the issue was addressed.
On the Food Standards Agency's website, the score for the January 8 inspection is listed as one out of five with the comment: "major improvement necessary".
Carcasses hanging in basement chillers were found to have mould growing on them, slicers and vacuum packers were left dirty and expensive wagyu beef, marrow bone, oxtail, onglet, and lomo de cana, a Spanish-style pork, were found to be past their use-by dates,the Times reported.
In one case chicken breasts which had been de-boned were removed from their box, vacuum packed and relabelled with a date set for a week later, City of London inspectors said. There was no safety management system in place.
The butcher's shop, which supplies meat for the expensive restaurant upstairs of the same name, was found to have dirty fridge door handles, inadequate washing facilities for staff, poor lighting, damaged flooring and a "heavy presence" of mouse droppings.
The Times said it used a Freedom of Information request to obtain details of the full extent of the hygiene problems.
Oliver's butchery is also one of only 19 out of 1659 food outlets in the city to receive an "A hazardous" rating.
The butchery closed voluntarily after the inspection in January but the company said last night that the mould found on the carcasses did not make the meat "unfit for human consumption", as the report states.
The restaurant, which was founded in 2010 by Oliver and an American chef, Adam Perry Lang, describes how it dry-ages its meat for "anything up to 70 days". A spokeswoman for the company said last night: "The longer the meat dry-ages, the more the mould occurs. This is a natural process and is safe to eat."
A meal upstairs at the Barbecoa restaurant costs about 100 ($195).
Other inspection reports have highlighted problems with Oliver's restaurants, ranging from out-of-date food at Canary Wharf to raw burgers in Leeds. In 2012 a branch of the chain in Edinburgh had to call in exterminators after dying mice were filmed in the dining area.
In May 2013, the Portsmouth branch pleaded guilty to breach of the Food Safety Act and was fined 8000 with costs of 9000.
A spokeswoman for the Jamie Oliver Group told the Times: "Following the environmental health inspection in January we took the immediate decision to voluntarily close the butchery for several hours in order to urgently address the issues raised. We reopened within 24 hours and officers noted that the improvements had been made."