Party bites make a high-protein chicken treat but they're not ideal as - or intended to be - a meal replacement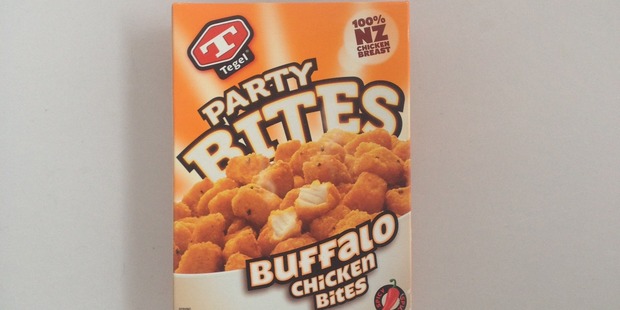 I was alerted to these by my daughter, who had them at a friend's house and said they were "yum". I've got nothing against teenage girls snacking on chicken - protein is good. But I was suspicious that these could just be the grown-up version of chicken nuggets with their spicy flavouring and "party" marketing.
Ingredients
• Chicken (59 per cent) - According to the label this is 100 per cent New Zealand chicken breast, so no minced or composite chicken in here. It isn't free-range, though. Chicken is a good source of protein and you'll get 14.4g per 90g serving.
• Water
• Flour (wheat, maize) This will be to help the breadcrumb mix stick to the chicken pieces.
• Breadcrumb (wheat flour, water, yeast, vegetable oil, spice, spice extract) - This is pretty standard for a breadcrumb mix you might make at home.
• Salt - These are quite high in salt, with 567mg per 90g serve. There are five serves in every packet.
• Wheat semolina - Semolina is probably in here to form texture on the breadcrumb mix.
• Wheat gluten - This will be in here as a thickener.
• Wheat starch - Similar to cornflour except made of wheat, probably in here as a thickener.
• Polenta - This is cornmeal.
• Tomato powder - This will be in here for flavouring
• Sugar - Not too high in sugar. You will get 1g per 90g serving.
• Vegetable oil - Not sure which oil this is but this product is reasonably low in fat, coming in at 7.1g of fat per serve. You can also cook them without having to add fat.
• Modified starch (1422) - This is acetylated distarch adipate, which is a treated starch. Maize starch This is cornflour. Spices
• Dehydrated vegetables (onion, garlic)
• Mineral salts (451, 452, 450) - These are all diphosphates, which are salts of phosphoric acid and most likely in here as a thickener, stabiliser or emulsifier.
• Hydrolysed vegetable protein (maize, soy, acidity regulator (262, 330) - This is created when soy and maize is boiled in acid and then broken down with sodium hydroxide to release the protein. It is used in foods as a flavour enhancer. The acidity regulators are sodium acetate (262) and citric acid (330).
• Flavour - This will be artificial flavour.
• Emulsifier (433) - This is polysorbate 80, which is a synthetic compound.
• Spray dried fat powder (partially hydrogenated soybean oil, lactose, sodium caseinate (milk) - This will be sprayed on the outside of the product to help it go golden and crisp when cooked.
• Thickener (412) - This is guar gum, which is a natural gum extracted from seeds.
• Flavour enhancer (627, 631) - This is disodium guanylate (627) also known as GMP and disodium inosinate (631) also known as IMP.
My recommendations
As with chicken nuggets, it is always better if you make your own. But I don't know many teenagers who have the time or inclination to chop up chicken breasts, coat them in spicy breadcrumbs and cook them.
These have a lot of additives on top of the chicken and breadcrumbs, but none of them are screaming at me. There's no MSG and no artificial colour, which you would normally find in a food like this, and they are low in fat, low in sugar and high in protein.
So I'm going to call these a treat food - okay for the odd snack, but I wouldn't want to see my daughter and her friends eating these every night or replacing a meal with them.