The Topp Twins have extended their repertoire from singing to cooking on a new TV One show writes Penny Lewis.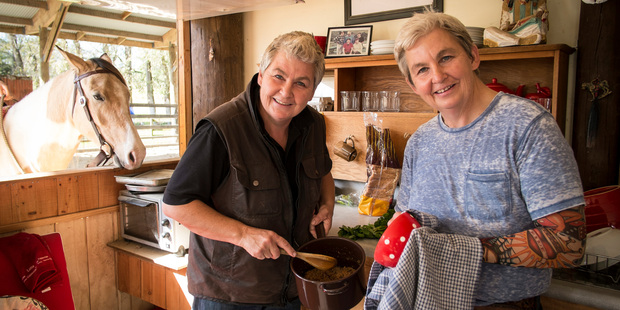 Food has always been more than just fuel for much-loved Kiwi entertainers Jools and Lynda Topp. Growing up on a farm near Huntly, the twins always enjoyed their mum Jean's home cooking. Thursday was, and still is, Jean's baking day. "She makes the best gingernuts in the world," says Jools, who lives north-west of Auckland at her idyllic Liberty Circle Ranch.
Although Jean and Peter Topp have retired from their farm and live in Morrinsville, Jean always likes to make sure the tins are filled to offer to any visitors.
Given Jean's generosity and humour, it seems apt that Mother's Day today marks the launch of Jools and Lynda's new television series, Topp Country. In a time when we've become accustomed to fast-paced cooking shows,Topp Country is a reminder to slow down, relax and not worry about being competitive in the kitchen if that's not how you like to do things.
"Food shouldn't be cooked in a mad rush," says Jools. "Cooking is about time." Topp Country's 10 half-hour episodes are described by Jools as being "a cross between a cooking show, Country Calendar and a love story".
Each week focuses on a different sort of meat, fish or produce and culminates in an episode celebrating Topp family favourites.

There are interviews with Kiwi couples who farm, catch, grow or produce the hero food-type of each show. "These amazing couples need each other to make that particular product or produce work. It's the joint effort of couples everywhere," says Lynda.
Tonight's Canterbury-based premiere, For the Love of Pork, features free-range pig farmers, a couple who home-school their children and make pancetta, plus Mary and her Spanish husband Mariano, whose Smoky Paprika Vinegar Salsa Lynda now uses in her mince on toast recipe at Topp Lodge, which she and wife Donna Topp run at Staveley in Canterbury. Each Sunday night will feature a different sort of food, but all episodes also include a Topp Twins song plus appearances from favourite Topp Twin characters: Camp Mother and Camp Leader offer saucy tips and Ken and Ken sum things up.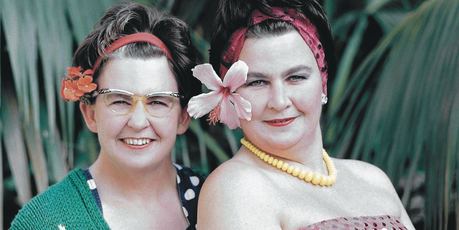 Although Jools and Lynda both love food and cooking, they say it's important to make the point they're well known as entertainers - not chefs. "It's important we're not seen as experts in the food department," says Jools. "It's really simple [food], simple-as."
Lynda says the important thing is to just try and cook, even if you're not confident. Don't be in a rush. "Try a simple sauce or flavouring - put it in there and have a go. Most New Zealanders are willing to have a go."
During the week, Living visited Liberty Circle Ranch, where Jools and Lynda got busy cooking while Jools' horse Stanley kept them company. Lynda's mince on toast recipe is a hit with the local farming community in Staveley, as are bacon butties. City slickers may like to use wheatmeal bread, aioli and basil in their bacon butties, but farming folk prefer traditional white bread and butter with their bacon. Jean used to make her fastest crumble in the West for the twins and their brother Bruce when they were kids at Ruawaro School. The children would set off for school with crumble packed into little Agee jars, but often temptation got the better of them and the crumble would be gone by lunchtime.
Topp favourites
Lynda: "The one important thing is the meat I eat is homegrown or I hunt it." Her picks include wild duck, venison and wild tahr (a kind of goat that has strong meat with little fat). After a recent successful duck-shooting expedition Lynda plans to breast-out the ducks and make a mallard duck-breast pate.
Lynda adds she is passionate about only shooting what's needed. She and Donna have three chest freezers at Topp Lodge.
Jools: "I don't like to shoot." Jools and her partner Mary usually have a home-kill on the farm because they like to know where their meat comes from. Jools' favourite is beef, which she likes to make in a slow cooker for as long as possible.
Topp Recipes
Bacon Butties
• Streaky bacon (two rashers per serve)
• White or wheatmeal sandwich bread
• Butter or aioli
1. Grill bacon rashers until just crisp. Cover each slice of bread with lashings of butter, or aioli if you prefer. Place bacon between bread slices to make a sandwich.
• If you feel you need a green ingredient, add chopped basil to aioli. For a gourmet buttie, use pancetta.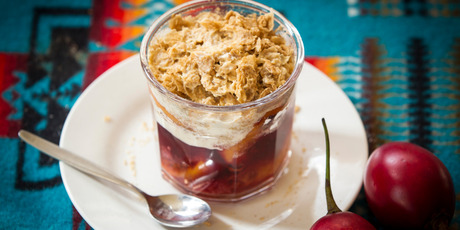 Jean's Fastest Crumble in the West
Serves 6
• 6 tamarillos
• 4 tbsp sugar
• 6 Weet-Bix
• Pouring cream
1. Remove skins from tamarillos by blanching the fruit in boiling water. When the water has cooled, peel skins off. Slice peeled fruit in half, lengthways.
2. Add tamarillos to a pot, along with sugar. Add enough water to cover the fruit and bring to the boil on a medium heat. Watch the pot and once the mixture starts foaming, remove from heat and allow to cool.
3. Divide stewed tamarillos between small Agee jars or large tumblers. Immediately before serving, crumble a Weet-Bix on top of each serving and pour cream to taste.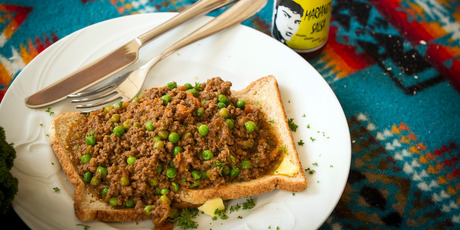 Mince on Toast
Serves 6
• 1-2 cloves crushed garlic
• 1kg beef mince (ideally not prime mince as it's too lean)
• 1 onion, chopped
• 2 carrots, peeled and diced
• 1 parsnip (a must), peeled and diced
• 2-3 medium-size potatoes, peeled and diced
• 100-140g tomato paste (Lynda uses Leggo's garlic and herb-flavoured paste)
• 80-100ml dark soy sauce, depending on taste
• 1 dsp smoked paprika or Mariano's Smoky Paprika Vinegar Salsa (see spanishfoods.co.nz for stockists)
• 1 dsp balsamic reduction
• 1l chicken stock
• Dollop of butter
• Frozen peas
• Toast of your choice
• Parsley for garnishing (optional)
1. In a large pot, cook the butter until it starts to foam and brown slightly. Add garlic and mince and brown the meat until moisture has reduced.
2. Add diced vegetables, tomato paste, soy sauce, Mariano's salsa or smoked paprika, balsamic reduction and chicken stock. Bring to the boil and turn heat down, simmering for 40 minutes.
3. Allow to cool, mash until vegetables are absorbed into mince and ideally refrigerate overnight.
4. Reheat in a pot and add frozen peas to cook in the bubbling mince mixture for two minutes.
5. Serve on toast, sprinkled with chopped parsley.
Topp tips
• Nothing in excess - Jean Topp;
• Sift flour 2-3 times when baking - Jean Topp;
• Mince has still got to taste like mince - Jean Topp;
• When you're cooking mince, don't try to cordon bleu the <\@>#$% out of it - Jools Topp.
• Topp Country screens tonight at 8pm on TV One.
• The Topp Twins will celebrate country music greats in a national tour, The Grand Ole Topp-ry, from October 1. See more at topptwins.com
• Topp Lodge, 12 Burgess Rd, off Highway 72, Staveley, Canterbury, ph (03) 303 0955. Search for Topp Lodge on Facebook.
Follow Life & Style on Twitter and Facebook.