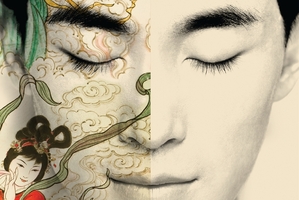 I feel pretty confident that this first book by Seattle-based Kim Fu will be the only novel you read this year with an Oriental-Canadian trans-sexual protagonist.
Peter is the third child of Chinese immigrants. He's born a boy, but yearns to be a girl.
His domineering father, "a small man who stands tall in people's minds", wants the family to be as completely Canadian as possible and as fast as possible. Cantonese language, customs and cuisine are forbidden. Even the white fungus soup is flung out on to the lawn, and replaced by split pea and ham. The four children are forced into new concepts of identity. In Peter's case, it's a quest compounded by his utter conviction that he's a prisoner inside the wrong gender.
He spends his childhood in 1970s Ontario, in "an awkward, middle-sized town". Asked what he wants to be when he grows up, he instantly replies "a mommy". He knows that his real body waits for him somewhere else, and it's like his sisters' bodies. The thought of remaining a boy makes him weep.
He moves away to Montreal, where we hear a lot about restaurants and high-risk sexual activity. He starts to shape himself, physically and psychologically. He has affairs with a domineering older lover and a self-punishing Christian lesbian who puts sex on the same level as voting or cleaning your teeth.
He sees the persecution of those who don't or won't fit conventional gender roles: the abuse, rapes, murders. Meanwhile, his three sisters - wordly Adele, obsessive Helen, feckless Bonnie - are living or ruining their lives across two continents. Peter will need them all his life, and the intricate interplay of relationships among the quartet is one of the structural strengths of this novel.
It's is an astonishing, wounded journey through "a world that needed education". Commendably, Kim Fu ensures that plot always takes precedence over polemic; she shows rather than tells.
It's also rich with metaphors of identity on multiple levels, and lit with unexpected, pawky humour. We find that male baldness is particularly humiliating for a trans-sexual; that God has an inconsiderate habit of giving advice during ice baths.
A debut distinguished by subtlety and quiet, and one which makes you sit very still as it follows its protagonist towards a precarious happiness. You'll be intrigued and moved.
For Today I Am A Boy by Kim Fu (Vintage $39.99).