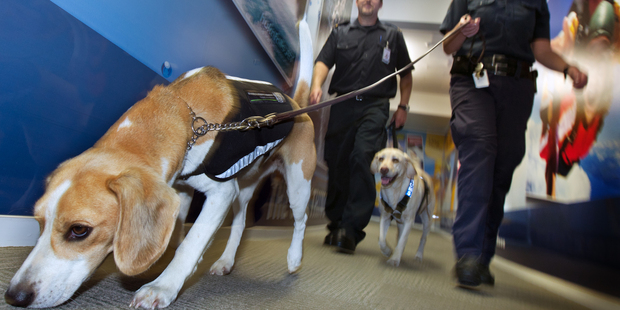 Some of NZ's airports can certainly claim to have the cutest little crime fighters around. Don't be taken in by those puppy dog eyes however - if you happen to be harbouring a forgotten apple or trying to bring your pet hamster for a visit, our expertly trained detector dogs will sniff you out. These clever little beagles and their handlers are on the hunt for any item that poses a risk to NZ's agriculture such as foreign plant or animal material.
Internationally, dogs have been used to detect various substances since the 1960s, from firearms to bodies. Detection work is traditionally done with large dogs and away from the public eye. The United States Department of Agriculture initiated the 'Beagle Brigade' in 1984, using these small people-friendly dogs to work alongside the public at international airports. Beagles are excellent scent dogs and are popular with the public, making them great ambassadors for the protection of our borders.
New Zealand had its first two beagle and handler teams up and running at Auckland Airport in 1996. There are now 35 teams across the country with five more to be operational by July. This allows most international flights coming into the country to be monitored for biosecurity risk and small airports covered when needed. International mail centres and ports are also subjected to the sniff test.
Accuracy is high with most dogs achieving 90 per cent detection rate on their validation test and trainers say they can get 100 per cent with the right dog and handler combination.
Training starts early for MPI beagles and the smaller number of Labrador detector dogs bred at the National Training Centre in Auckland. For the first eight weeks of their lives they are introduced to different sights and sounds, as well as being well socialized and even given a daily massage.
For the next year, the puppies go to a home in the community where they mix and mingle at busy places like shopping malls and school events to ensure they will work well in their future public role. After this the dogs start their detector training, firstly learning about 10 basic odours in just 20 days.
For the next eight weeks the dogs are paired up with their new handler and start training at each border site. Once training is complete they will be able to recognise upwards of 35 base odours. The dogs are trained to sit when a target odour is found, rather than trying to retrieve it. This must have been particularly challenging for the beagle that found a bucket of KFC brought into Australia by a Kiwi convinced that "ours tastes much better". Training continues throughout the dogs working lives to keep their noses finely tuned.
A typical day for a detector dog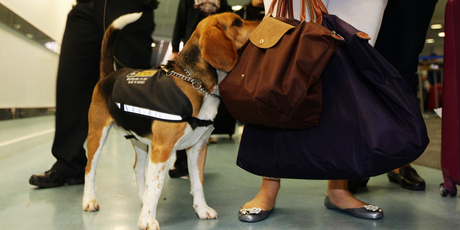 MPI dogs live at the Detector Dog Programme National Training Centre and start a typical work day socialising with their canine colleagues. Then it's off to work with their handler which could be an airport, cruise ship, port, or mail or cargo centre. The airport beagles sniff their way through the arriving passengers and their luggage but get plenty of breaks only working for about thirty minutes in each hour. Relaxation and fun is important for our detector dogs. They have four days off each week and are taken for bush walks and swims by their kennel assistants when they're not swapping stories with their workmates in the exercise runs.
Detector dogs work until they are seven-to-eight-years-old at which time they are retired, either going home with their handler or to another suitable home.
New Zealand's Detector Dog Programme produces extremely successful working dogs which are highly sought after by overseas agricultural agencies. We have supplied dogs and assisted with setting up programmes just like ours in Argentina, Korea, Canada and Hawaii. Just another thing us Kiwis are quietly excelling in.