Greig Morgan reckons water features are the way to unwind.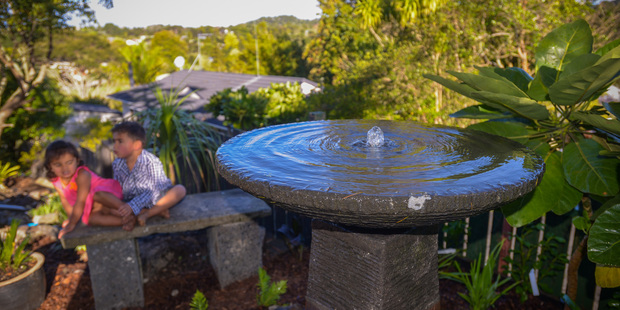 A water feature makes a pleasant focal point in the garden. Whether it's natural, formal or a mixture of both, a water feature makes a great focal point in a garden, entrance area, or anywhere you like. We created this one along the edge of the drive to soften the area, transforming it into one of the prettiest parts of the property.
Step 1
Choose a suitable location before excavating down approximately 400mm deep. Keep the circumference of the pond in proportion with the water feature.
Step 2
With the hole dug to size, check for foreign objects such as tree roots, rocks or anything sharp that could puncture the pond liner. Place in a sand base for the pond floor and sides about 60mm thick, then compact the sand by jumping up and down. With the aid of a level, screed the sand so the floor is nice and level, as well as the top edge.
Step 3
Carefully fit the pond liner, avoiding creases on the bottom. Fold the liner over the pond edge and carefully place rocks around the edges to help hold the liner in place.
Step 4
Place the water feature in the centre of the pond before fitting a flexi hose from the top through the centre of the plinth to connect to the pump. Now place the bowl on top of the plinth, fitting the top of the hose to the connection in the underside of the bowl.
Step 5
With the aid of a level, adjust the bowl if needed, by placing a packer between the plinth and the underside of the bowl to level up. Fill the pond and turn on the pump.
Tip: With the water flowing over the bowl, this makes it easier for any further adjustments to get the water flowing evenly.
Lay carpet or similar to stand on and get someone to help when lifting the water feature into place.
Materials
Pond liner
Sand
Pump
Flexi hose 19mm
diameter
Water feature
Rocks
Tools
Shovel
Level
Trowel