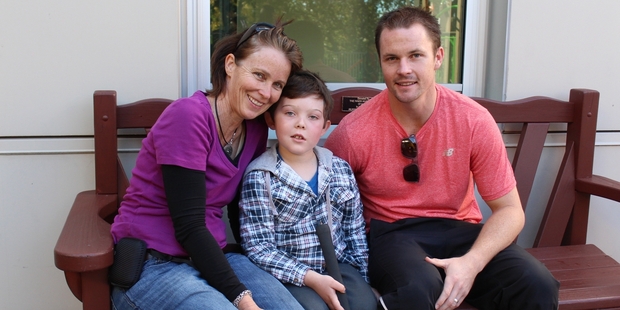 Terminally ill Daniel Camp got bat on ball when a top cricketer arrived to brighten the day of Starship children's hospital patients and their brothers and sisters.
Seven-year-old Daniel, a New Zealander, suddenly began suffering intractable epilepsy when he was 4 and living in South Africa.
His mother, Sheena, said epilepsy surgery was arranged, only for the diagnosis to change. The operation was cancelled.
"[We were] told Daniel has a terminal brain tumour. We've come to spend some time with his grandparents [in Hastings] - to go fishing with his poppa at Lake Waikaremoana and do some Kiwiana things like riding on tractors."
She said Daniel was now too unwell to travel back to South Africa so they would remain in New Zealand.
Daniel enjoys playing backyard cricket at home so his visit to the Starship was fortuitous.
He had been to the hospital for a check-up and returned to Hastings yesterday, but not before he stepped up to the crease, with his mum's help, to face a few balls from Black Caps medium-fast bowler Colin Munro.
Luckily for Daniel, it was all under-arm on a short pitch in a courtyard so he got a few shots away.
"He was quite excited to get up and play cricket," said Mrs Camp. "We spent the morning at the zoo."
Munro's visit to Ronald McDonald House Auckland - which provides accommodation for families from all over New Zealand whose children are being treated at Starship - was to help highlight the charity's Family Week, which runs from May 12 to 18.
The aims of the week are to raise money and to encourage families to spend enjoyable times together, for instance by playing backyard cricket.
Mr Munro said he was glad to visit the charity's house near the Starship and play a bit of cricket "just to give them something different".
"A lot of them haven't played cricket, some of them have - but they all gave it a crack," the 27-year-old cricketer said.
"It's good to come and spend some time with the kids."