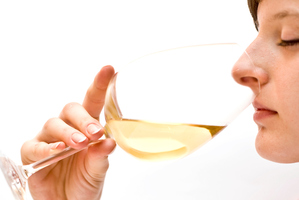 Aromatic is an interesting word to use about wine. After all, every wine is aromatic to a greater or lesser degree, so why are some classed under the banner of "aromatics"?
Well, the term gathers together wines that tend to be more aromatic than others, including riesling, gewurztraminer, pinot gris, viognier, arneis, verdelho and gruner veltliner.
There's even an argument to made for including sauvignon blanc, as it has a quite strong and characteristic aroma, often including such descriptions as "grassy", "cat's pee" and even that old standby - "sweaty armpit".
The major aromatics, though, tend to be easily grouped and they are all wines that can do well in New Zealand.
Pinot gris is made pretty much everywhere and this workhorse grape has been a godsend for wineries that need a reliable cash crop. That's not to say all pinot gris is simply beverage wine, far from it. But many give that impression - they can come across like something designed to be appealing to chardonnay and sauvignon drinkers, offering a wider market for the winery.
Riesling has been a champion, producing wines of great power and finesse as well as having excellent ageing potential. Like pinot gris, it is made in various styles, from the bone dry to the luscious dessert styles and it's good to see some producers using a scale on the back label to show the sweetness as not everyone's definition is the same.
Riesling has done it tough in the domestic market and much of that can be put down to the variance in sweetness, as well as a residual resistance among older drinkers who can remember terrible wines that went out with riesling on the label.
Gewurztraminer is an interesting grape. Arguably the most aromatic of all these wines, its characteristic notes of lychee, Turkish delight and rosewater can lull the drinker into thinking it is simply a sweet white wine, but its acid levels are usually good and the spicy quality it provides - the "gewurz" part of the name means spicy - balances the residual sweetness.
As with riesling, gewurztraminer has a style which has experienced problems in the market. Many have held the view that the difficult-to-pronounce name has held it back. Who is going to order a wine bearing a name they don't feel confident saying? If that is true, it's a crying shame because good gewurz is a gem of a wine, packed with flavour and rewarding for the drinker.
Aromatics can be quite versatile when it comes to matching them with food. But they are also lovely to drink on their own so it's well worthwhile checking a few out because some rieslings, pinot gris and gewurztraminers have everything you need in a wine bottle.