Food reviewer's first novel entices Nicky Pellegrino with its charm.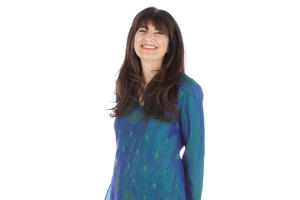 When US writer Ruth Reichl lost her day job and decided to turn her hand to fiction there was only ever going to be one major theme. Food has been her driving force for more than 40 years. She has been a leading restaurant critic, the editor of the now-defunct Gourmet magazine and the author of several brilliant foodie memoirs.
Now her love affair with all things gastronomic has produced a lovely novel. Delicious! (Allen & Unwin) is about cooking and eating, but it's also about the special power of food, the way it connects us to each other.
It's the story of Billie Breslin, who lands her dream job as assistant to the editor of iconic food magazine Delicious! after baking the perfect gingerbread at the interview. Billie is a shy young woman who has grown up in the shadow of her brilliant, beautiful sister Genie. For reasons she refuses to divulge, she doesn't cook and lives on Chinese takeaways. But Billie has a talent - a pitch-perfect palate - and is completely enchanted as her new job draws her into the inner circles of New York's foodie high society.
Then, without warning, Delicious! is closed down by its owners and all the staff, aside from Billie, are laid off. Each day she sits alone in the offices waiting to answer the phone to complaining readers. It's a solitary job but, one day, in search of an original recipe, she and Sammy, the magazine's former travel editor, break into the amazing library, that for years has been off limits to staff. There they discover a secret room filled with a trove of reader correspondence going back decades.
The two of them are fascinated by a series of wartime letters from a 12-year-old girl called Lulu Swan to the (real-life) legendary chef James Beard, all creatively filed by a long-gone librarian. The letters tell of a time of thrift and heartbreak and Billie is drawn into the world they describe, becoming determined to solve the mystery of who Lulu was and what happened to Beard's replies. Along the way she faces up to some deep-seated issues, discovering herself and the truth about her "perfect" sister.
Old-fashioned in a good way, Delicious! carefully follows the recipe for a reader-pleaser. There is a pinch of mystery, a generous sprinkling of romance, enticing food descriptions and well-flavoured characters, bags of charm and prose as light as a twice-baked souffle.
There are a couple of clunks as the story falls into place and some of the characters and plot devices seem a bit well-worn but the ending moved me to tears and I was so sad to turn the last page and say goodbye.
I'm a huge fan of Reichl's memoirs, in particular Garlic & Sapphires, in which she tells of going undercover as a restaurant critic.
In my opinion she has made the transition to fiction as stylishly as she appears to have done everything else in her long career ... and just as deliciously.