Cost of movie experience comparable with other forms of entertainment, says commentator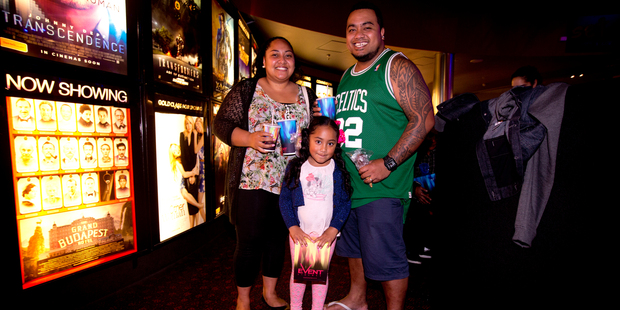 The minimum price for a trip to the cinema to see The Lego Movie in 3D costs an adult $21 at Auckland cinemas.
Taking advantage of special deals and loyalty programmes could reduce prices at New Zealand's three main cinema chains, but industry experts and movie buffs expect prices to keep rising.
A Herald comparison of prices for different movies coincides with school holidays, when family trips to see the latest blockbusters are common.
To take a family of two adults and two children to see The Lego Movie in 3D would cost $59 using a Family Pass and paying $1 each for 3D glasses at both Event Cinemas and Hoyts, while it would set two adults back $44 for the same experience.
To see the non-3D children's movie Rio 2 would be $18 for an adult and $12.50 for a child, or $42 for the family pass.
Flick.co.nz editor and regular moviegoer Steve Newell was surprised ticket prices had exceeded $20. "It would be quite a surprise to do the full consumption experience if you haven't done it in a while," he said.
Adding snacks for two people at Event Cinemas would cost $19 for a special deal that included large popcorn, two small drinks and two chocolate topped icecream.
Mr Newell said there was a range of special deals and reduced rates that made the theatre more affordable and a trip to the movies was also comparable to other entertainment activities.
"It comes down to it being an entertainment experience, whether you're going to see a film or not it's the same value you would pay for another entertainment experience.
"That's how much you would pay for a box of beers and less than a meal out, and with how long blockbusters are now - some of them are up to 2 hours long."
Event Cinema General Manager Carmen Switzer said it was special effects technology and everyday business costs that contributed to ticket prices.
"Many films now are 3D, this requires specific digital technology that Event has invested in and installed in its theatres throughout New Zealand.
"It is this constant reinvestment in the business, in addition to the increasing day-to-day costs of running the business that set prices."
The chain provided options for family passes and loyalty reward programmes to bring down the cost of the experience and seeing a film on the big screen was a special experience, she said.
Hoyts did not respond to requests for comment.
Movie money well spent, say family
A family trip to the movies on Anzac Day was worth it for the Fakaosi family enjoying a school holiday outing yesterday.
Peter, Pamela and their 5-year-old daughter Prisilla enjoyed a screening of Rio 2 at Event Cinemas in Queen St.
The price tag did not deter them.
The family spent $65 on tickets and took advantage of a deal at the candy bar that included popcorn, drinks and icecream for $20.
They also paid $6 for a space at a central city carpark, as they drove from their home in Takapuna.
"We expected this price because it's the school holidays and our daughter has never been to this cinema before," said Mrs Fakaosi.
"We did know that it was expensive here, but we got a two-for-one deal on the food and we came over for a day in the city."
Mr Fakaosi, a retail manager, said the movies were cheaper than other activities the family did during school holidays.
"Usually we travel back to Tonga, so this is much better."
He said as more people downloaded movies illegally, cinemas should lower their prices to entice them back to the big screen.
"It's an experience. You just want to watch it on the big screen, where you enjoy it more."