Family-friendly events, experiences, festivals and shows are in abundance throughout Auckland. Rachel Grunwell highlights some cool things to do in the school holidays — and some wow-factor things worth noting for later on. First up, here are some ideas for this week.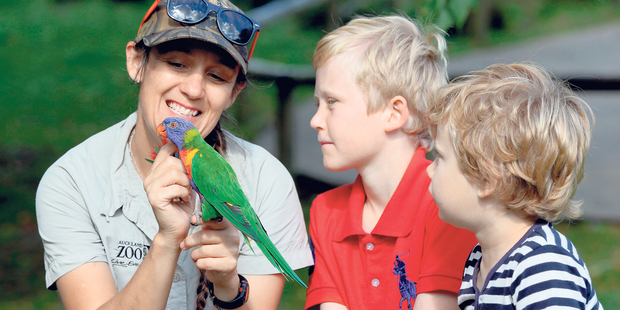 Seeing stars
The Stardome Observatory and Planetarium's Autumn School Holiday sessions are for 5 to 12-year-olds and are on weekdays until May 2. Kids can check out a planetarium show in the dome theatre, create some crafts and conduct an experiment (plus let off an air and water-powered rocket, weather permitting). Adults $8, children $10 (sessions are 10am and 1pm). Until the end of May, families can take in the beauty of the autumn night sky and learn about the planets, stars and constellations (suitable for 8-plus years).
Adults $10, children $8. This is on 8pm Wednesday to Sunday. Bookings essential.
Talk with the animals
The Auckland Zoo is a favourite with my family. And I'm not just talking about my kids. I mean the big kids too (that's the bloke and me). When we walk through the gates we debate which direction we will take and in which order we will see the furry and cute, creepy and scaly, tall and elegant, and slippery and sweet residents.
We love talking with the animals - especially my 2-year-old Finn, who squeals with delight seeing all those creatures from picture books come to life and comically tries to pronounce all their names and copy noises. My older kids soak up learning new things with each visit to the exhibits. The firm favourites are always here, like the giraffes and giant spiders, but just before the school holidays, four Tasmanian Devils arrived here from Australia's Healesville Zoo. These cheeky carnivorous marsupials are now an endangered species due to a facial tumour disease that struck in 1996 which still has no cure. The Auckland Zoo is focused on the Tasmanian Devils and Australia these holidays. Come along and learn about them. For example, did you know they have a quirk of sneezing before they fight? The TasMania April School Holidays gig is on until May 4 and includes daily encounters, games, puzzles, activities and a free mask and activity book if your child becomes an official Auckland Zoo TasManiac.
Usual admission prices apply (Friends of the Zoo free). Adults $25, children (4-14) $10, infants free.
Need for speed
Today is the last day of the ITM 500 Auckland (V8 Supercars) at Pukekohe Park Raceway. Bring along the family to watch cars thunder around a race track. Young kids can delight in a Disney Fun Zone at Gate 2, and meet Lightning McQueen.
Kids under-14 are free, adults have different price options.
Art and culture
The Pacifica Mamas will be in the Story Corner at The Auckland Art Gallery on April 30 between 1pm and 2pm. These matriarchs from throughout the Pacific will share The Legend of the Coconut as a musical story-telling session. Admission is free. Meanwhile, check out the gallery's Family Guide via this link to help you make the most of family visits.
Free. April 30, between 1pm and 2pm
Car crazy
The Museum of Transport and Technology (Motat) is holding a Car Crazy Holiday Experience in which families can make balloon-powered racing cars and take part in other interactive and car-theme activities, such as play with slot-car sets and learn about what kids played with before remote cars. This place is always worth visiting to see and learn about how transport and technology has evolved.
Regular admission charges apply, including a family pass for $40 (two adults and up to four kids).
Show time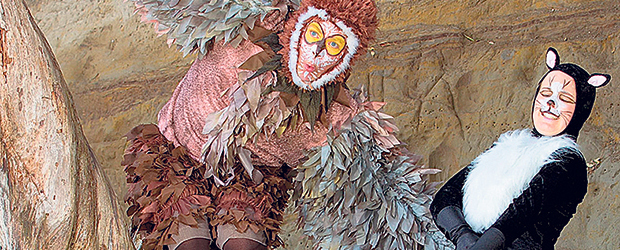 Experience music, great characters and be entertained by The Owl and the Pussy Cat live on stage. By Edward Lear, adapted by Tim Bray, and with songs by Christine White. It's on until May 3 at the PumpHouse, Takapuna.
Different prices for different seat preferences apply, but roughly $22-25 per ticket. Group discounts available.
Some family-friendly things for beyond these school holidays
Matariki festival
This celebrates the Maori New Year, from June 28-July 28. Historically, Matariki was at the end of the harvest season. Storage houses were full of food so the community gathered to acknowledge the past year and celebrate the coming year. This involved sharing rituals, kai, korero and entertainment. Now, the tradition continues with family celebrations. A dawn karakia kicks off the event and a series of performances and activities will be held at marae throughout Auckland. Among the dozens of community-led activities will be kapa haka, music and theatre shows, traditional kite and flag-making and flax-weaving. One activity sure to be popular with kids is the Manu Aute Kite Day on July 26. So come along and fly a kite over Orakei Marae, sample hangi, get the kids' faces painted and enjoy the entertainment.
Rugby
The IRB Junior World Championships is June 2-20. Look out for rugby stars in the making among the 336 players in 12 teams vying for the right to be called the best Under-20 team in the world. Many members of the current All Blacks squad have come through the Under-20 ranks so keep an eye out for star players. Catch one of the 30 matches played at either Eden Park, North Harbour Stadium or Pukekohe Stadium.
Kids' tickets are $5, adults $10. www.aucklandnz.com/events
What a laugh
Kids will giggle, snort and laugh out loud at local and international comedians at The NZ International Comedy Festival Stand-Up for Kids on May 3, 10 and 17, 2pm, at Loft at Q Theatre on Queen St, Auckland. The host this year is South Australia's Fred the Clown.
Tickets cost $19.50.
War times
The Auckland Heritage Festival remembers and celebrates our past and heritage. This year, the focus is World War I to mark the upcoming 100th anniversary. The festival runs from September 27 to October 12. The Auckland Council promises "loads of family-friendly events".
Marathon effort
Kids can run a marathon (not in one go!) and get a medal. The Auckland Marathon has a kids' marathon event ($25) in which children, aged 7 and over, take up to 12 weeks to complete a full marathon distance (42.195km) by running between 3-5km roughly weekly. The last 2.195km is completed on Marathon Day - November 2 - in front of thousands of cheering spectators.
Music to your ears
The Auckland Philharmonia Orchestra has lots of events coming up.
• In the free Tunes 4 Toddlers sessions (Mangere, May 19; Henderson, May 23) little kids dance, conduct, listen to music and generally have fun. Numbers are limited, so contact claudiar@apo.co.nz to register.
• October 4 is Wolves Out West, at Trusts Stadium Waitakere, 2pm (free entry for everyone). In this collaboration with the Auckland Theatre Company, Peter and the Wolf will be performed. This is part of the APO's Open Orchestra day. Other activities include in-theme competitions, plus a "composer cave" where kids can compose music with a professional composer. Kids can also meet musicians and see their instruments up close. No need to register for this, just turn up.
• On November 29 and 30 is the APO 4 Kids - A Pirate Xmas Party for those aged 2-5. Kids can walk through the orchestra as the musicians play. All tickets $15. There are two concerts each day (November 29 and 30), one at 10am on Saturday (Town Hall) and Sunday (Massey High), and one at 11.30am on Saturday (Town Hall) and Sunday (Massey High).
Running kids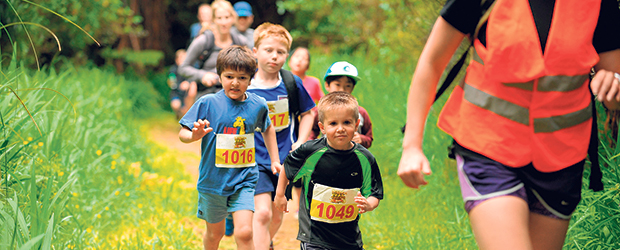 In the Blackmores Xterra Auckland Trail Run/Walk series there are seven run/walk events in locations like Riverhead Forest (May 18), Shakespear Regional Park (June 8), Woodhill Forest (June 29) and the Hunua Ranges (September 21). There are different course options for varying abilities, including 5-8km short course options and 20km-plus tracks. The events are in idyllic spots and participants get to run or walk through mud, sand or forest tracks. Kids can complete the short course by themselves or alongside an adult. Family passes cost $100 (that's two adults, up to three children). Onsite babysitting is available for younger ones if needed for $7-per-hour/per child.
Cool fun
Snowplanet is open every day of the year, offering skiing, snowboarding, tubing, tobogganing, or little ones can simply just delight in the white stuff. For details on up-coming promotions to help snow-lovers brush up on their skills check out snowplanet.co.nz.