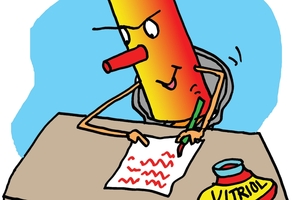 I was slightly puzzled recently when I received an invitation to contribute to a second edition of a title called Grumpy Old Men.
Bemused, because as everybody knows, there is nobody more kindly disposed to my fellow men than me.
I recall being invited to contribute to the original publication, but decided the publisher had erred, clearly unaware that old age has turned me into sweet reason itself, so I gracefully declined.
But after a second request I felt duty-bound to contribute - even though I'm so brimming with mellowness these days I would not be surprised if some sort of sainthood is beckoning.
Creating a dyspeptic list of trifles turned out to be unexpectedly easy for someone so free of mordant thoughts.
I stuck to insignificant nit-picking stuff, simply because more serious commercial matters I'm diligently pursuing would make rather boring reading, particularly as litigation is involved.
I confess that nothing changes my state of sweetness towards others more than being forced to hire lawyers. Their outrageous costs demand that I receive some minor comforts in return, such as seeing tears of blood falling from the faces of those who have offended me.
In my more belligerent days, I once pursued a company back to America for copyright infringement and wasn't content until I'd pursued their directors into bankruptcy and had them facing possible imprisonment.
The editor of the grumpy title hesitantly suggested I contribute 150 words and seemed startled that for someone so placid, I was able to belt out 550 words of snarling, grouchy minutiae within hours.
After filing my bile, I concluded I could have easily doubled my contribution and even taken over the whole book, as I became consumed with recalling all the things in today's world that irritate and make me grumpy.
At the top of the list is the corporate recorded telephone message. Particularly recordings that ask you to insert numerous PIN numbers and endless personal information, when your only desire is to speak to a human being. The moment I'm placed on hold and forced to listen to puerile music, punctuated by regular recorded voice interruptions earnestly stating "your call is important to us" is the moment, alas, when I sense my well-deserved sainthood disappearing down the nearest drainhole.