Kiwis following US trend of taking their pets to the office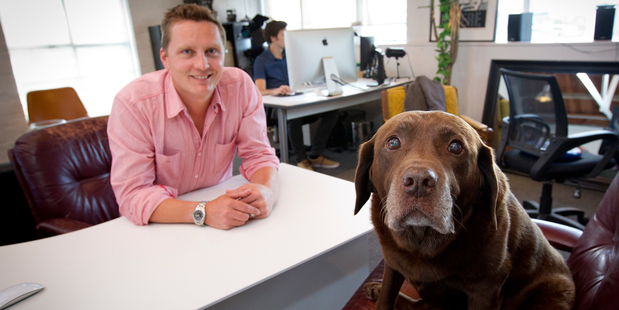 Taking your pet dog to work could be the key to reducing stress and building better relationships with colleagues.
Studies in the United States, where 3 per cent of Americans take their canine friends to the office each day, show the benefits of allowing dogs at work include increased morale and productivity, happier employees, lower absenteeism rates and improved relationships among co-workers.
The trend is taking off in New Zealand as employers begin to see the advantages of a pooch in the workplace.
Dexter the chocolate labrador has been going to work every day with his owner Jeremy Barron for the past 11 years.
As managing director at Public Eye advertising in Auckland, Mr Barron began bringing Dexter to the office as a 3-month-old puppy.
"We like to have a relaxed and creative atmosphere and Dexter adds to that."
The business, on the third floor of a character building in the central city, employs a staff of seven, all of whom love the dog.
Dexter has his own leather chair and though he's occasionally been returned by police after a wander up the road, the family-friendly Labrador is usually well-behaved, sleeping most of the day.
Four dogs roam the office at Interpine Group in Rotorua, which is part of an innovation park owned by the New Zealand Crown Research Institute Scion - where dogs being walked or playing with their owners are a common sight.
That's because the Scion campus has a policy allowing dogs in kennels outside the buildings but Interpine general manager David Herries permits dogs inside the office.
They include his 5-year-old chocolate labrador Coco, a boxer called Toby, almost 6, and two fox terrier puppies named Scampy and Tia.
"As long as the dogs aren't wandering anywhere, they can roam around the office and sit under people's feet and keep us entertained."
Mr Herries said Interpine's 16 staff enjoy a relaxed working environment, though if anybody with a fear of dogs or allergies arrives the animals are temporarily shut away.
The dogs are toilet trained, sociable and not too excitable, though a tug-o-war is not out of the question and Coco is handy for cleaning up crumbs after morning tea.
Mr Herries said the labrador was enthusiastic about going to work, which she had been doing since she was 6 weeks old.
"She's the first person in the truck every morning."
Staff even go as far as celebrating each dog's birthday every year, right down to cake and candle.
SPCA Auckland executive director Bob Kerridge said dogs made excellent companion pets.
"They want to please. Particularly if they are well trained and part of the family, they are great companions to have."
Mr Kerridge said dogs were a healthy addition to the workplace because they encouraged people even non-owners to get outside and exercise, even if just to toilet the animal. And from a social perspective dogs were better than staff parties and training sessions for bonding.
"People who like animals will probably come up and spend a couple of minutes talking to your dog and maybe if you're lucky you as well."

Hounds in the workplace
• A 2012 study published in the International Journal of Workplace Health Management found that having your dog at the office reduces stress and boosts employee satisfaction.
• According to the Virginia Commonwealth University study employees who brought their dogs to work reported a decline in stress throughout the day.
• A 2010 Central Michigan University study showed that dogs at work established a sense of employee collaboration and trust.