Address:
44b Portage Rd, New Lynn
Herald Rating: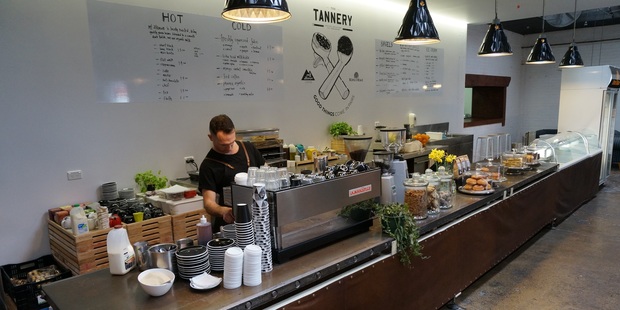 The menu is bagels, and more bagels. Al Brown's Ugly Bagels to be exact, with a choice of six toppings. There is also cabinet food, provided by The Huia Foodstore, but it's mostly of the sweet variety - huge wedges of divine-looking ginger crunch, muesli slice, chocolate caramel, cronuts. There are savoury brioches or muffins too. And because The Tannery is a joint venture between Mt Atkinson coffee and Kohu Road icecream so there is also the complete range of Kohu icecreams available in a cone, bowl, or takeout container.
The space is terrific after a recent fitout. It's a roomy building with concrete floors, light wood tables and retro chairs. The communal table with stools in the middle of the cafe is a popular spot, as is the table next to the caravan - filled with toys and books to keep the young people happy while you eat.
The food is top-notch - if you like bagels, that is. We had the King (smoked salmon, cream cheese, dill and capers, $12.90), the Grilled (halloumi cheese, onion jam, roasted red pepper, $9.50) and the April monthly special (fig paste, blue cheese, prosciutto, rocket and fig balsamic, $13.90).
The bagels are halved, toasted, topped with your choice and served on cool wooden boards.
The coffee is Mt Atkinson and the long black and the latte we ordered were some of the best we've had.
The service was pretty friendly and the food arrived quickly.
Overall, we decided no one should leave this place without trying the salted caramel affogato - a scoop of Kohu Road salted caramel icecream topped with shot of Mt Atkinson espresso. Heaven. It's worth driving across the city for this alone.

Follow Life & Style on Twitter and Facebook.