Rain or shine, we're still happy to have four whole days of holiday. Easter is like that. Some of us are even smarter and making it 10, lucky them.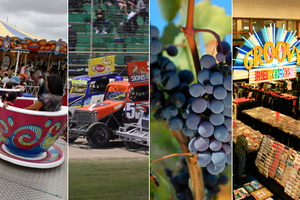 Cool bananas

Jazz aficionados know their stuff so will have to choose between the traditions of the Tauranga Jazz Festival and Waiheke's smaller scale jaunt. Tauranga bills itself as the National Jazz Festival, the longest running in the southern hemisphere, and one of the oldest in the world (that's what 50 years does to you). Join 45,000 people on the beautiful Tauranga waterfront for five stages of free music and a family-friendly Jazz Village. Waiheke's festival circles the vineyards in a Jazzabout Bus which makes a great daytrip and a fun way to see Waiheke if you're staying in the city.
Details: Bus Pass $10 per day, $25 for three days; return ferry and bus combos $45 and $60. Ferry details here.

Screaming meemees
The Coca Cola Easter Show has been an Auckland tradition since 1911.
But in those days there wasn't an easy-to-find app, free wifi, a wicked circus and rides to make you scream your lungs out (the 40-metre tall Turbo Boost spins at over 120km per hour pulling 3.5 Gs).
But, we like that there are still the old traditions. C'mon, when else do you eat candyfloss and rock-hard hot dogs on sticks, get to see the animals at the A&P Show and gorgeous fireworks at 9pm every night?

Details: Until Monday, 10am - 10pm. Free entry, rides are extra.

Slam bam thank you ma'am
Easter Speedway Spectacular has a Demolition Derby, sprintcars and midgets from Western Springs, all capped off with Thumping Thunder Fireworks to light up the sky. Mud, madness and midgets - what more do you need?
Details: Saturday, 6-10pm. Waikaraka Family Speedway, Onehunga. Tickets: $10-25 (under7s free).

Wine out west
Kumeu's Soljans Estate hosts a Berba Croatian harvest celebration - grape stamping, folk dance and live music, just like the old country. Join winery tours and get a taste of the novo vino (newly fermented wine) when you get up close to the heart of a family winery. While you're out there, stop at the wonderfully refurbished Provenance Matua Valley one of the latest beauties from the Hip Group empire. The café uses organic and locally-sourced food (791 State Highway 16, Waimauku).

Details: Saturday to Monday, 9am - 5pm. 366 State Highway 16, Kumeu.

Groovy black things
Real Groovy's Record Store Day is for all those vinyl lovers who know the gods of music are on their side: live in-store music and DJs, exclusive local and international vinyl releases, not to mention face painting for all those lovers of the originals, KISS and Bowie. Join the international clan of record stores in its seventh year celebrating real music. 26 years of music fans serving music fans, 438 Queen Street is a world class quarter-acre of vinyl and pop-culture paradise.
Details: Saturday, 9am - 7pm.
Follow Life & Style Online on Twitter here. Follow Life & Style Editor Nicky Park on Twitter and Instagram. Follow Weekend Life Editor Catherine Smith on Twitter and Instagram.