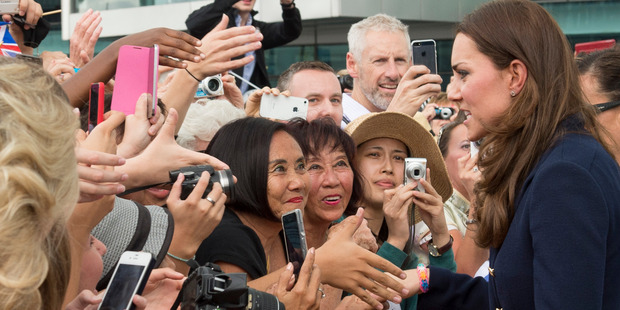 The Duke and Duchess of Cambridge were so popular on their 10-day tour of the country they managed to disrupt telecommunications in some places, as excited fans took to their smartphones.
Vodafone consumer director Matt Williams said the royal visit brought out "our sharing side".
"Thousands of fans have turned out to see William and Catherine on their tour of New Zealand - and we've seen Kiwis of all ages really embracing the power of their smartphones.
"Whether it was posting photos or video to Facebook, tweeting live updates or sending Snapchats, the Vodafone network carried significant data volumes throughout the week-long tour, with traffic peaking during the couple's public appearances and walkabouts."
Read more:
• Farewell to the royals
• Live Blog: Royal visit to NZ
Cambridge went crazy for the royals with spectators chewing through 14 terabytes of Vodafone data between midday and 1pm on Saturday, April 12, - nearly double the data used earlier that morning, and the equivalent of watching 73,000 45-minute HD TV shows.
Telecom head of corporate communications Richard Llewellyn said the hype disrupted mobile service.
"There was some mobile congestion in the Cambridge area during the event."
Watch: Royal visit - Police 'puppy time'

Blenheim, Wellington, Dunedin and Auckland experienced similar increases.
Mr Llewellyn said the walkabouts and public moments with the royals lead to the biggest spikes in usage.
Telecom recorded a 318 per cent increase in uploaded data at the royal couple's cricket display in Christchurch's Latimer Square. The amount of data used was equal to people uploading 3121 photos.
"Marlborough saw a huge increase in the amount of usual traffic - that was one of their most public of walkabouts and was early in the tour."
Mr Llewellyn said he believed the data used in the Forsyth Barr Stadium during the Royal Rippa Rugby event exceeded that of normal Super 15 games.
About 8000 people watched the Royal Rippa Rugby.
By the numbers:
* 14TB of Vodafone data was used in Cambridge in one hour during the royal visit;
* Equivalent to watching 73,000 45-minute TV shows;
* Double normal usage was also seen on both Telecom and Vodafone service in other centres visited by the royals.
- APNZ