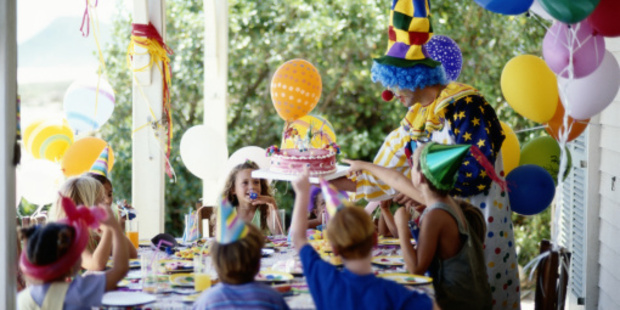 In episode seven of Step Dave (my favourite local television show) Cara was let down by an entertainer she had booked for her child's birthday party. The timeline was unclear but it looked as if "Super Muso Man" cancelled a few days out even though he had been booked six weeks earlier.
Six weeks? Was this woman serious? What had she been doing for the other 46 weeks leading up to this particular birthday? I was way more prepared than that when I arranged a party to celebrate my daughter's 5th birthday. (This seemed a suitable age to hold her first proper party. She was leaving kindergarten and heading off to school. It was a milestone.)
So at 8.30am one sunny morning in March 2008 I was calmly making fairy bread in the kitchen when the telephone rang. Then my husband came downstairs. "The clown's cancelled," he said. For a moment I thought he was joking.
The clown I'd booked nine months earlier couldn't cancel 90-minutes before 20 small children were due to descend on my house.
The clown who'd confirmed his attendance by both email and telephone could not be leaving me in the lurch like this. But he was. An illness in the family meant that he was required elsewhere.
"What do I do?" asked my husband. "You get me a clown here by 10am," I replied as I slathered hundreds-and-thousands onto white bread. He telephoned what must have been every clown in the greater Auckland area to see if they could help. The first eight laughed at such an audacious request. Didn't they realise this was a clown emergency and not at all humorous? Even Step Dave's Cara seemed organised in comparison.
But the ninth clown was available. He was located an hour's drive away and he wanted to speak to me before he left. "I can do magic, balloons or just standard clown stuff. Which would you prefer?" he asked. "I don't care what you do. Please just start driving now," I begged.
Twenty children arrived and I had only one activity with which to keep them entertained. I'd encased a soft toy in twenty layers of wrapping paper for a game of Pass the Parcel. (Between each layer I'd inserted a small trinket. Evidently the children of today have such delicate dispositions they must be spared the experience of missing out.)
Just as the last layer of wrapping paper was being removed there was a honking sound as a clown on a miniature bicycle wobbled into my family room. I was so glad to see him I even forgot the house rule about no bicycles indoors. My knight in a shiny red nose had donned his clown clothes and made up his face at a service station so he could hit the ground running (I mean, cycling) at our place.
So the moral of that story is that you can, in fact, be too organised. Booking months out didn't do me much good. And who'd have thought entertainers could be hired at just an hour's notice? That is good to know.
Since the-clown-party-that-almost-never-was the guest list has shrunk each year. My daughter's 6th birthday was a teddy bear party. There was also a pool party and an animal party. We recently celebrated her 11th by having seven friends to dinner. Judging by the way it's tracking, her 15th birthday is likely to be marked by sharing fish'n'chips with a couple of BFFs.
Of course, children's parties come in for much criticism these days. Some are lavish with no expense spared. There are roving performers, catered food and sumptuous goody bags. As Walnut the Clown explained in the Bay of Plenty Times, "You'll turn up to a 1-year-old's birthday party and there'll be two bouncy castles and a merry-go-round. I'll come and do a magic show and balloons, and then Mr Whippy will turn up."
On the face of it such extravagant affairs appear over the top but actually they could be the sensible option. Just think: if I'd booked more than one entertainer for my daughter's party, the clown cancellation wouldn't have been such a drama. "Oh we've already got a puppeteer, magician and face-painter. Don't even worry," would have been my response to the bad news.
What's your view on children's birthday parties? Have they become just another pressure for parents? Are they yet another way of keeping up with the Joneses?