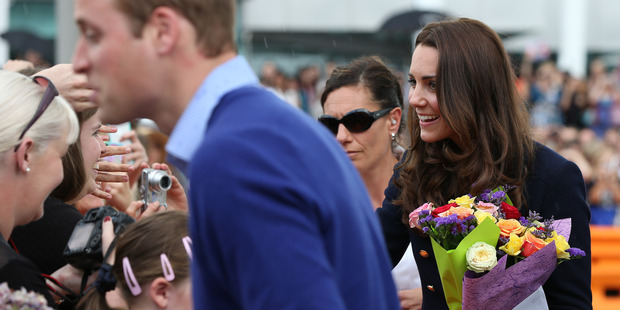 Royal crowds do not ask for much - a glimpse of the familiar profile through a car window, a wave if they are lucky. Well, less of a wave than an upraised hand normally, like a benediction.
Catherine gave more than that to the crowd at Halsey St. They had waited, through a brief shower and bursts of sun between the storm clouds. And waited. They knew the drill. Many had flags from the royal wedding.
Two women happily recalled waiting on The Mall for eight hours to see the wedding party sweep by in a few seconds. Well worth it, they said.
People lined both sides of Jellicoe St yesterday but you had to think our spot was promising, right at the Halsey St end. Barriers half-blocking the way into the yacht harbour suggested this was where they would get out of the car. TV crews clearly thought so.
We waited. The hi-viz vest crews fiddled with the road cones. When they did something strenuous with a barrier section all eyes watched them intently.
We waited only 15 minutes past the scheduled time of arrival, 45 in total, a millisecond in royalist time.
Then, noise and fluttering flags down Jellicoe St said they were coming. First came police bikes, then a police car, another, followed by a real car. Could that be it? Hard to see through tinted windows. No.
The next Crown limo was the one. She was on our side of the car and not just waving, leaning forward, looking happy to see us all, really waving, genuinely smiling.
The cars had not stopped. She passed in a second. We would have seen far more on television but there is something about the briefest glimpse of real life that you never forget.
The crowd drifted away, content.