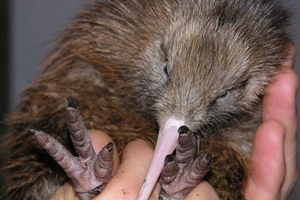 One of eight young brown kiwi added to a North Auckland farm sanctuary yesterday has been named after Prince George.
He owes his name to Prime Minister John Key, who joined in the release of the birds to their new home and was offered naming rights.
One suggestion was "John Keywi".
However, Mr Key said he would call it "George".
The Northland brown kiwi came from an island in the Hauraki Gulf which is managed by the Department of Conservation and the Motuora Restoration Society.
Farmers Gill and Kevin Adshead said they had worked for seven years to make a safe home for kiwi on the 1300ha property at Mataia, on the southeastern Kaipara Harbour.
Their 22 kiwi make them the first farmers to have released and bred kiwi on a working farm.