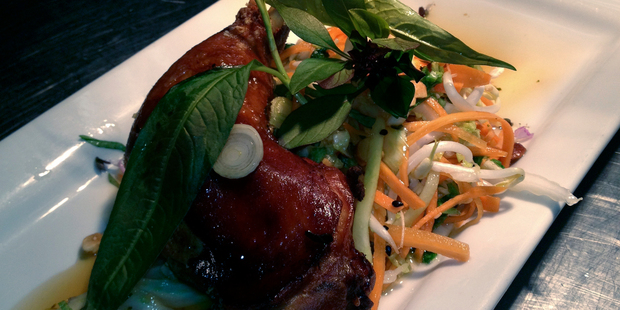 Serves 4

Master stock
This is the key ingredient in Chinese red-cooking. Meats braised in master stock take on a deep red colour and a sweet aromatic flavour.
• 3 litres water
• 250ml light soy sauce
• 500ml Shao Xing wine
• 200g yellow rock sugar
• 4.5cm sliced ginger
• 5 cloves of garlic sliced
• 4 star anise
• 2 cinnamon sticks
• 3 cardamom pods cracked
• 1 teaspoon Sichuan peppercorns
• 1 zest of orange

Place ingredients in a large pot and bring to boil. Simmer gently for 15 minutes then remove from heat. Allow the stock to cool completely (overnight is ideal) before straining out the aromatics and refrigerating or freezing.
• Chicken (can be made one day in advance)
• 4 free-range Maryland chicken (thigh and drum together)
• 2 litres if Master stock (see recipe)
Rinse chicken under cold water and pat dry. Bring master stock to the boil and add chicken. Gently poach for 20 minutes. Take off the heat and sit for 15 minutes. Carefully remove the chicken from the stock so as not to damage the skin. Cool in fridge.

Sweet and Sour dressing
• 2 tablespoons finely chopped coriander
• 5cm ginger sliced
• 2 tablespoons finely sliced spring onions
• 2 cloves of garlic finely chopped
• 1 large red chilli finely sliced
• 2.5 tablespoons of light soy sauce
• 1 tablespoon brown rice vinegar
• 1 teaspoon brown sugar
• 1 teaspoon sesame oil
• 2 tablespoons peanut oil

Combine all ingredients except peanut oil in a bowl. Heat peanut oil in a small pan until surface shimmers slightly, then carefully pour over ingredients in bowl. Stir to combine and set aside.

Asian Slaw
• 1 small carrot
• 1 small cucumber
• 2 sticks celery
• 1 cup fresh bean sprouts
• 3 red radishes
• 3 spring onions shredded
• cup finely shredded Chinese cabbage
• 2 teaspoons black sesame seeds

Julienne carrot, cucumber, celery and radishes. Place in a bowl with shredded cabbage and spring onions. Mix in sesame seeds and place to one side
To Serve
Pre-heat oven to 180 degrees. Take out chicken from fridge and place in a frying pan or oven tray skin side up. Add 4 tablespoons of water. Place in oven for 15 minutes or till crispy. While the chicken is roasting mix through 4 tablespoons of dressing to the asian slaw.

To Plate
Divide the salad between 4 plates. Place roasted chicken on top and drizzle with the remaining dressing.