Address:
480 New North Rd, Kingsland
Herald Rating: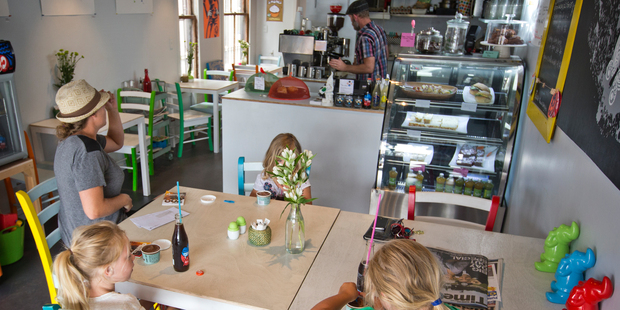 The menu was, in a word, short - it was a dot of a menu. The blackboard listing basically consisted of bagels, bruschetta, an avocado dish, bacon butty and muesli. However, the cabinet was full of tasty temptation.
We ordered the deliciously fresh smashed avocado with feta and lemon on a superb grainy toast ($9) and bagels with tomato, avocado and cream cheese ($9.50).
The coffee was Eightthirty brand and simply wonderful and required seconds.
The service was good for the one-man operation that this little cafe was this quiet weekday morning. Very helpful when we had difficulty linking to the internet with the wi-fi password.
We liked the artwork on the walls, such as the Spacemen drink bottles - we so wish some drinks-maker would revive these childhood memories - and our little blue table companion was a nice touch.
Overall we were surprised at the smallness of Dot and that the cooked breakfast menu we had previously seen online had disappeared, but would definitely return for a coffee refill.
Follow Life & Style on Twitter and Facebook.