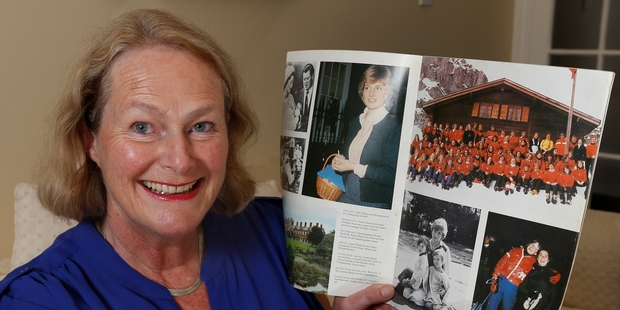 She has never spoken publicly about her secret meeting with Princess Diana at Government House in 1983, but one New Zealand woman will never forget the looks on the faces of a room full of dignitaries as they wondered who the strange woman was being beckoned by royalty.
As a 23-year-old nurse, Wellington woman Louise Longuet was the surveillante (matron) at Institut Aplin Videmanette in Switzerland attended by Lady Diana Spencer in the 1970s.
There to improve her skiing and French as a 16-year-old, Lady Diana was one of 12 girls who lived in a chalet supervised by Ms Longuet.
If you're out spotting the royals, we want your snaps. Share them with us, including details of where you took the photo, here.
"She was quite young and I think she enjoyed just being one of the girls there," she said. "She was very natural, I would have said the girl next door.
"She commented something sweet one day along the lines of, 'my family thought it would good for me to mix with other people'.
"Which made me smile because all these girls were very privileged."
Ms Longuet also served dinner to the girls, supervised their studies and was responsible for them overnight.
"I slept in the chalet, my bedroom was opposite [Diana's] bedroom door. One night they thought they were being terribly naughty. I could hear them sneaking out but let them go - all they could do was walk around the tiny village, there were about three men the right age so these 50 girls would have made them run for cover."
Diana did not spend long at the school, and Ms Longuet soon moved on to continue travelling.
Shortly after Diana and Charles wed, Ms Longuet returned to New Zealand with her husband Russell.
A family friend of then Governor-General Sir David Beattie and his wife Lady Norma, the newly married pair were invited to attend a banquet for the royal couple in 1983. "There were 600 people there, 500 were in a marquee and 100 in the main dining room where Charles and Diana were.
Watch: Royals arrive in NZ

"After dinner, and this is five minutes I will always remember, we were just hanging at the back and all these people had pushed in front of us to try to shake their hands and things. Lady Norma came and said, 'Louise and Russell can you please come through'."
They were escorted over to the young Princess.
"She said, 'oh I do remember you'.
"So we talked a bit about the school and she said she was homesick and because she came in the middle term she didn't get a good choice of bedroom."
Follow Life & Style on Twitter and Facebook.