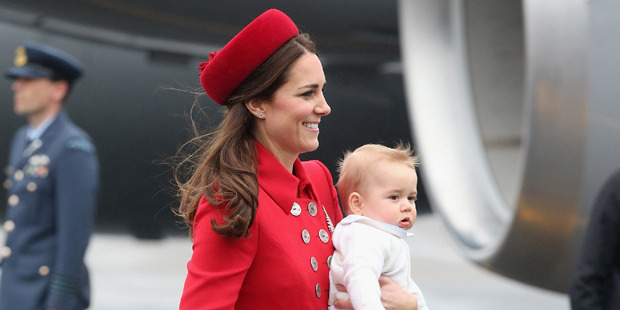 Regal in red, the Duchess of Cambridge set the tone for this week's royal tour, arriving in Wellington in a tastefully tailored bespoke scarlet coat and gown, pillbox hat and royal jewels on loan from the Queen.
The striking ensemble, in the Duchess' signature A-line silhouette, was created by London designer Catherine Walker, a favourite of Diana, Princess of Wales, while the hat was created by milliner Gina Foster. Both designers are a favourite of the Duchess, who changed on the RNZAF plane that flew the royals from Sydney to Wellington.
She was filmed in Sydney wearing a Max Mara wrap dress, a wardrobe failsafe she wore while pregnant.
The Duchess recognises the power and symbolism of dress, and has worn pieces that relate to the country she is touring. There are hopes she will wear something by a New Zealand designer - whether that be a locally based one, or someone like Emilia Wickstead, who is based in London. The local link on her arrival was a diamond and platinum silver fern brooch borrowed from the Queen.
It was gifted to her during her 1953-54 tour of New Zealand.
Her influence may be seen further throughout the tour, with the monarch having reportedly told the Duchess to update her wardrobe to match her position - no more high street buys, and lower hemlines that are weighted (there was almost a flash too much on her arrival in windy Wellington).
Expect her tour wardrobe to reflect that, with bespoke creations and elegant tailoring that showcase a sense of pomp and occasion.