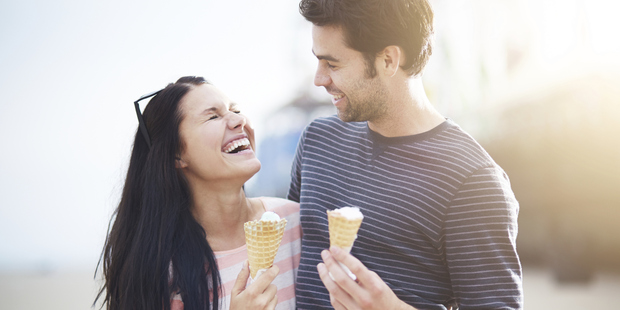 I've got a friend who is recently single, and while she's enjoying diving into the dating game, she admits she doesn't really know what she's doing. Does anyone, when it comes to dating? We're always being told what we should do - everything from trust your instincts, be yourself, and the ever important: analyse every piece of communication you receive with your close friends. There are other tips to remember: try avoid pash rash (no one likes having to awkwardly explain a peeling chin), never expect the other person will pay, relax and have fun, and, as my smug-married former colleague was always keen to point out, it'll be easy and natural if it's 'right'. Or something.
Anyway, one good thing to come out of going on dates is trying new food places you've always wanted to go to. And whilst you don't want to be slopping braised pork down your top on date number one, it's also unlikely you're going to be able to recreate that scene from Lady and the Tramp over hand pulled noodles. But my general philosophy on life and dating is that if something terrible is happening then at least it'll make for a good story.
Like the time I went on a blind date with a guy about a foot shorter than me called Brian. He was wearing a terrible shirt and ordered a very expensive mojito, which took a good 10 minutes to prepare. My first gin was gone by the time he'd finished telling me where he worked and I think it's fair to say we had absolutely nothing in common. It was horrific, but recoiling the story to my friends afterwards led to a level of hilarity that made it all worthwhile. So keep that in mind if things aren't going well.
Here's eight great dates in Auckland city, especially if you love food.
1. Coco's Cantina
The gorgeously friendly and red-lipsticked service with a smile, and the unpretentious and delicious food make Coco's ideal for dinner dating. It's nice enough to feel a bit special, but accessible enough to neither break the bank nor intimidate with fancy white tablecloths. The hustle and bustle adds to the sense of excitement; a great date spot.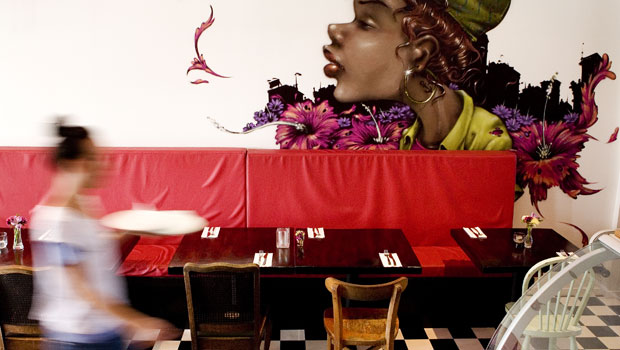 Coco's Catina is an ideal for dinner dating.
2. Dominion Road dumplings
One friend complained recently that all the dating she was doing was costing her. All those midweek after-work wines (and sometimes shots) were adding up. Fear not, for an authentic Chinese food experience on Dominion Road is a date you've got to do. You will never truly know if you can be with someone until you've witnessed how they cope after eating one too many of the 20 pork and chive dumplings at Barilla, or overdosed on noodles at Xi'an food bar.
3. Cazador
Also on Dominion Road, this game-meat, offal, and sherry-loving restaurant has had a sleek new re-fit. Now with a gorgeous green banquette, a new courtyard, and a happy hour. They also fire up the barbie on the weekends for spit roast Saturdays, Cazador is a great date spot, especially as the weather cools. And let's be honest, nothing says 'kiss me!' more than a plate of offal.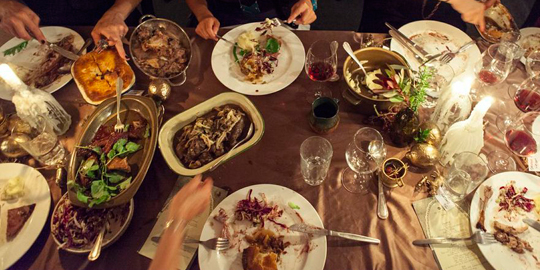 Cazador on Dominion Road is a great date location.
4. Get sporty
Watching how someone behaves while watching a team they're invested in is an interesting social experiment. Even if you're not a huge fan, but you just want to get out and do something cool, there's always plenty of sport to see. The Blues and the Breakers are good ones to watch, and the trans-Tasman Netball season is in full swing at the moment, and the Northern Mystics can do with all the support they can get. Bust out the thunder sticks and scream until you lose your voice. Attractive.

Watching sports is a great date idea.
5. Champagne and oysters
Now I know this is a terrible cliché. Terrible. But to be honest, if someone tried to woo me with fresh oysters and champagne, I'd cringe at the idea, but the truth is I'd be stoked. These are two of the most delicious things on this great earth, and I've said it once I'll say it again: if the way to a man's heart is through his stomach, the way to mine is with champagne. Two good options are Soul in the Viaduct or Depot on Federal Street; basically anywhere serving the oysters fresh and the champagne cold. Swoon.
6. The Tasting Shed
Cling onto those dying days of summer with a Sunday session out in Kumeu. The food is great, they've got DJs doing sets into sunset, and the food is glorious. Sipping rose while lounging on a beanbag is particularly recommended on a sunny afternoon.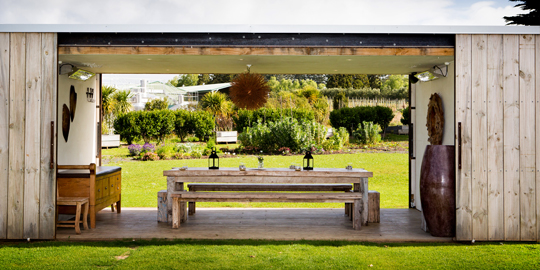 Take your date to the Tasting Shed in Kumeu. Photo / NZH
7. Malaysian and a movie
Newmarket is home to the Rialto theatre, and cheap Tuesdays are a great way to not break the bank while courting. There are some great food joints just around the corner, and one of my favourites is Malaysian joint Selera. Laksa might be a bit ambitious for a date early on, but sharing a rending or a mee goring while scoping out your date's chopstick prowess is key.
8. Day trip to Waiheke
Living in Auckland, it's easy to forget just how close and how awesome Waiheke Island is. It's a $36 return ferry ride (and cross your fingers for a smooth sailing if you've got a sensitive stomach and are still wanting to make a good impression). Pick a vineyard, or one of the many excellent restaurants, or even pack a picnic if you're feeling thrifty and/or creative. You can plan your transport depending on your budget (scooter hire, bikes, buses, or an efficient taxi service) and have a glorious time. If you eat too much at lunch, relaxing at Oneroa beach before walking to catch the ferry is a highly recommended way to finish the day.
Follow Life & Style on Twitter and Facebook.
- www.nzherald.co.nz