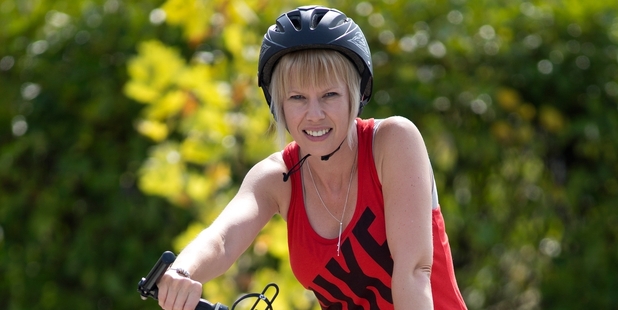 Troy Korewha was only three weeks old when his father died of cancer, but his dad's absence still weighs heavily on his mind.
The 8-year-old is the reason his mother, Sharlene Korewha, is competing in the annual 200km Ride to Conquer Cancer in November - he spotted a flyer for the fundraiser last year and encouraged his mum to take part when he realised it was too far for him.
Mrs Korewha, 37, is participating in the ride in memory of her late husband, Clayton Korewha, who died from aggressive bowel cancer in November 2005, just five months after being diagnosed with it.
Troy told the Herald he thought she should do the ride because "she was the last person to see him before he died".
The couple, who had two young children, Ethan, now 15, Chenae, 11, and were expecting Troy, did everything they could to beat the cancer and received support from the Wellsford/Warkworth Hospice because they were living up north at the time.
Mr Korewha had surgery two months after he was diagnosed in June 2005, but when surgeons opened him up they found the tumour in his bowel was too big to be removed and had spread to his liver and lungs.
Mrs Korewha said it had been heartbreaking not only for her husband but for the whole family watching him suffer as he underwent chemotherapy.
"For the last few weeks it was pretty hellish, basically. Most of it was spent back at Auckland Hospital. There wasn't much time of those four weeks spent at home."
Growing up, Troy had the hardest time dealing with his father's death because, unlike his two older siblings, he had no memories of him.
"He's been the one who has struggled with it probably the most because he has the unknown. Whereas the other two kids were around ... It has been really tough onhim."
Mrs Korewha, who works part-time sorting mail for NZ Post, said after Troy planted the seed about doing the ride a group of riders cycled past their East Auckland house last year. A few days later, on her husband's anniversary on November 21, she decided to do it.
The mother of five, who has had two more children, Ricco, 5, and Tia, 3, with her new partner, participated in a duathlon two years ago which had a 10km ride and is enjoying training for the bigger challenge. She has enrolled in boot camp, going to the gym and running and walking .
This year's ride is on November 15-16.
Follow Life & Style on Twitter and Facebook.