International price rises are taking a big bite as the cost of a Kiwi breakfast soars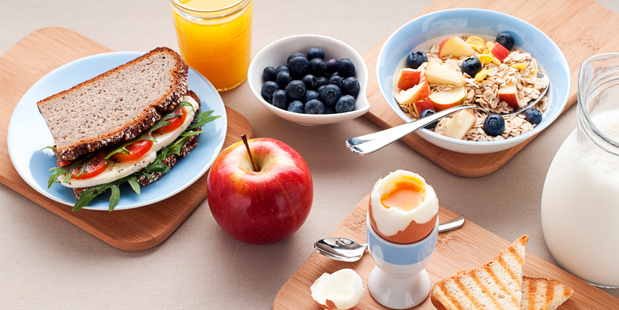 The cost of feeding your family a cooked weekend breakfast rose by almost 7 per cent over the past five years - and the price increases aren't likely to stop.
The Financial Times reported last week that the average global price of eight breakfast staples had risen almost 25 per cent this year.
The increases mainly affected coffee, orange juice, wheat, sugar, milk, butter, cocoa and pork.
We decided to create a Kiwi version of the Financial Times story and Statistics NZ food price figures reveal New Zealand families are not exempt from the trend.
If you served tomatoes, mushrooms, bacon, toast, eggs, tinned spaghetti and cereal, with coffee, tea and orange juice this weekend, it would have cost you 6.9 per cent more than the same meal in 2008, and almost 3 per cent more than in 2012.
Over the past five years, the compound average annual rate of inflation was 2.1 per cent.
But a 100g packet of instant coffee has increased in price by 9 per cent over that time.
Tea bags have become a lot more expensive — up more than 25 per cent on 2008.
A loaf of bread is now 11 per cent more expensive than it was in 2008.
Dairy prices are being boosted by high demand in emerging markets. The ANZ commodity price index shows cheese prices at a six-year high. Butter is at a 2-year high and the price rose 6 per cent in one month.
Statistics NZ's figures showed the price of milk rose more than 11 per cent between 2012 and last year.
One overseas problem Kiwis don't have is rising pork prices.
American pork prices have been affected by a virus epidemic that has pushed Chicago pork prices up 40 per cent. But in New Zealand, bacon's price has dropped from $21.99 a kilo in 2008 to $21.10 last year.
Of the breakfast foods surveyed, bacon and breakfast biscuits — such as Weetbix — were the only items that had become cheaper.
Economist Gareth Kiernan said New Zealand food prices were affected by international commodity prices. Even events such as the Ukraine unrest have pushed up wheat prices, and wheat and cocoa could become more expensive if the weather pattern El Nino triggers drought in important production areas.
Kiernan said the higher New Zealand dollar had helped take some of the sting out of the milk price strength for New Zealand consumers but it might not last. He said there was a big jump in dairy prices in 2008, but they then fell quite sharply before rising again in 2010.
"There has been renewed upwards price pressure in supermarkets in the past six months for milk and yoghurt, and there's still a bit of that to come through."
International coffee prices are up more than 70 per cent because of dry weather in Brazil.
In February, the price of coffee on commodities markets went up 20 per cent in two weeks.
Mild Arabica coffee was trading on the commodity markets for US$1.76 ($2.03) a pound (453g) in February, up from US$1.35 in January.
But commodities specialist Tim Kronfeld, of broker OMF, said Kiwi coffee drinkers did not have to panic too much about the cost of their favourite brew.
"The price had a big blow off, but it's now settled back a bit."
He said competition would keep a lid on coffee prices to a certain extent — and distributors had a bit of a buffer as they had not passed on drops in the price of coffee over recent years.