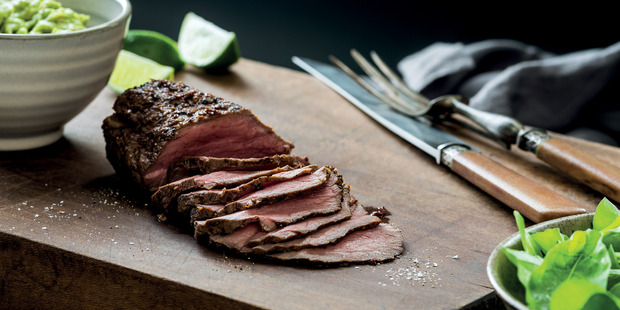 Serves 3-4
• 350g packet Silver Fern Farms Beef Gourmet Roast
• 2 tsp ground cumin
• 2 tsp finely crushed dried smoked chilli
• 1 tbsp olive oil
• Flesh of one large avocado, mashed
• 1 clove garlic, crushed
• 2 tbsp chopped coriander or parsley leaves
• Green parts of 1 spring onion, finely sliced
• Finely grated zest of 1 lime and 2 tbsp lime juice
• Rocket or spinach leaves, to serve
• Lime wedges, to serve


1. Remove roast from packet 10-15 minutes before cooking it to allow to come to room temperature.
2. Mix cumin, smoked chilli, season and sprinkle half on to a chopping board. Rub half of the oil over the roast, then roll it in the spices to coat it all over.
3. Spray barbecue rack with oil and preheat barbecue to high. Cook beef for 20 minutes, turning frequently, until all sides are well browned. Transfer to a plate, cover with tinfoil and a clean cloth and allow to rest while you make the sauce.
4. To prepare the avocado cream, stir the remaining spice mix into the avocado, garlic, coriander or parsley, spring onion and lime zest and juice. Season to taste.
5. To serve, angle-cut the meat and serve with the avocado cream on the side, accompanied by a green salad and lime wedges.